The Bear and the Rock
May 9, 2017
It was a summer day with a sweet smelling breeze that floated through the air. We had driven in the car for almost an hour. The sounds of 80's music and the cries of, "I have to pee!", still rang in my head. My younger brother, almost 5, immediately jumped out of the car and started to look for the best walking stick he could find. I don't believe he had valid criteria, but he was still young. My dad's co-worker, Jessie, was busy catching a horsefly with her daughter. They were using butterfly nets and sneaking up on the insect like a mouse to a rat.
My dad and I began to unpack and set up the tent, I was only 8 so I helped as much as I could before becoming distracted by the enchanting wonders of the outdoors. I was amazed by the soaring heights of the trees and the symphonious chirping from the many birds that found shelter in them. I was the oldest child attending the campout, so naturally I acted as if I knew all there was to know about surviving in the wilderness. There were four kids, all varying ages from 5-8. We asked our parents if we could climb up the mountain. Both agreed as long as we stayed within eye and ear shot. We began to walk through the wondrous wilderness. We saw vibrant colors in the flowers and birds, trees filled with green, and gunmetal rocks that provided forts for our games.

I feeling a bit mischievous lately, not having committed a "crime" for some time now. AS a result, I decided to yell, "Bear!", and run down the hill. As quick as lightning. The others followed in my footsteps. This was where it all went downhill, pun intended.

I was at the campsite catching my breath as I began to tell my dad the tale of comedy I had just created. The others were not too far behind, but my brother was quite a ways back being the youngest. He was terribly frightened and running carelessly through the woods, downhill, not a good mix. He tripped on a rock and flew through the air, only to hit his head on another rock. I regret to say he did indeed split his head open. He did not receive any long term head injuries. He came running to our dad screaming with blood running down his face. I was horrified, mortified, all of the above. It was my fault and it was bad. My dad proceeded to clean and bandage my little brother. I think it may have been karma, but I later sprained my ankle running down the hill.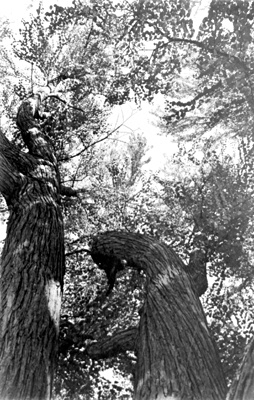 © Tim K., Marblehead, MA