Second to Last Dance
May 2, 2017
November 28, 2017 a night with a memory that will last me a lifetime. It was a cold New Orleans night, the city was glistening with Christmas lights. We arrived at the Roosevelt Hotel, he was dressed in his best suit and I was dressed in my best dress. The decorations in the Roosevelt Hotel were enchanting; everything about the hotel screamed enthusiasm for Christmas from the smell of hot chocolate, to the skyscraping christmas trees. We headed to the ballroom for dinner, listened to speeches, and enjoyed each other's company. He and I reminisced on all the funny and embarrassing times we have shared over the course of my life.

The senior butterfly class of 2017 is called to the middle of the dance floor to sing our class song and chant our class cheer. After singing and cheering, all of the senior fathers were called to the dance floor to dance with their daughter for the senior class' final Father Daughter Banquet. I spotted my dad walking across the dance floor; I tried to hold back my tears. In that moment my whole childhood flashed before me. I realized that I am moving away next year, and my dad is not always going to be a car ride away. So, I smiled my awkward smile and hoped to hide my bittersweet tears. We swayed back and forth. I recalled all the times my dad and I had danced before in the middle of the living room when I was little. I would stand on his feet in my princess dress and we would dance to every song until we were all danced out. A tear slowly rolled down my cheek.

The silence is broken by his cracked voice. He said "I am so proud of you. This is it you made it... a big senior, not my little girl anymore. Enjoy these next few years because believe me these are going to be some of the best years of your life. I know you are going to be successful." My dad paused, then said "I cannot express how proud I am of the young lady you've become." At this point we both had tears in our eyes, but we laughed in hopes of regaining our composure in the bittersweet moment.

Looking back on those words I realize how powerful of a moment my dad and I had. He finally had expressed to me and saw me as a young woman about to embark on some of the best years of life. Although I know I will always be his "little girl," he no longer viewed my as his dependent little girl as we moved across the dance floor.
The music faded out, it was as if we were the only two on the dance floor. As our dance came to a close my dad, as usual, had to end with a witty statement: "Next time we dance like this you'll have a different last name!" Yet again, I am stopped in my tracks as I realized that I am growing older and have much to look forward to. Our last dance together will be another dance where we will undoubtedly have the same conversation we had on November 28 and the same emotions will overcome us. During our "last dance" he will watch his "little girl" grow into yet another phase in life, and I know he will be proud and support me every step of the way.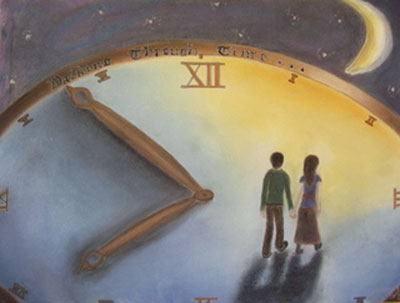 © Carollynn G., Hawthorne, NY