Our Wants Are Others' Needs
May 1, 2017
Growing up, I believed everyone was exactly like me. Well... I believed they lived exactly like me. I believed that everyone had caring parents, a big house, and comfortable clothes to wear. I believed that everyone lived healthy lives and had enough money to put food on the table each and every day. I believed that the world was flawless.
And then, I visited India.
India was different. It was dirty unlike the fresh air of New Hampshire. It was filled with pollution and dust rather than with the vibrant colors of nature. And unfortunately, it was home to 180 million people in poverty. 180 million people living on the streets. 180 million people begging for money. 180 million people hoping for at least a single coin to drop into their pan.
Every day, I would see their faces filled with pain, suffering, and disease, and it would remind me of all the things my parents purchased for me that day.
What was their true value?
That 10 rupee ice cream.
That 50 rupee cricket bat.
That 500 rupee pair of shoes.
And I just thought, "What if?"
What if those 10 rupees could have fed a beggar for days?
What if those 50 rupees could have cured a beggar's cough?
What if those 500 rupees could have clothed a beggar for a whole year?
What if I had suppressed my desire to want more in order to fulfill someone's needs?
Today, India shares over 20% of the world's poorest, and that percentage isn't decreasing. Every single day, a new person finds themselves on the streets, begging for money. And just to think, a measly coin could change their spirits and lift them up in their darkest hour.
I know that I could never eradicate poverty. But I can give every poor person something more valuable than any sum of money.
I can give them hope.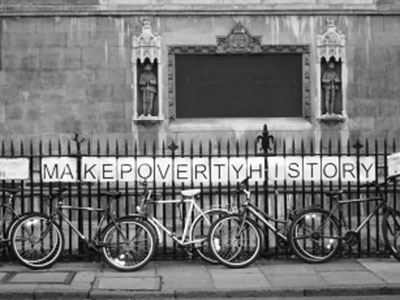 © Katherine S., Agoura Hills, CA