Rage on Paper
April 10, 2017
St. Michael stands on the desk, collecting light at the edge of his ceramic wings, and casting a shadow over the keys of my laptop. I had bought the statue in India, giving an identical one to my brother, a college student who lives in the city now. His sits on the third shelf by his textbooks, waiting.
Mine is here. With me. I hope that the real angel, the real St. Michael whose wings carry him to heaven, is watching me with empathetic eyes. I hope he carries my heart to God with careful fingertips, because I do not think I can handle any more falling.
She is the second one this has happened to. The body of the first lies beneath the ground, while her soul watches over me from beside Michael and the other angels. It always begins like this. People will smile and hug and tell her that they will be there, and when the cancer steals her hair and the brightness of her face, they fade away. I know. I have seen it, and the entire cycle will repeat itself. I feel like vomiting.
I remember walking in the hallways a month or two ago. She sat in the hallway and was alone, focused on the binder in front of her. I hesitated, thinking I'd say hello. Instead, I didn't make eye contact, brushing it off as too awkward.
Why did I do that?
Why didn't I take my chance?
I want to make her feel loved and strong, but I don't know her well enough. I feel if I try to get closer to her now, she will feel like I am doing this out of pity. I am not. I want to protect her from what I have seen. I am afraid for her.
The sword of the statue of St. Michael lays at his feet, broken off by rough handling over time. I stare at it. His arms and eyes are lifted towards the God his namesake serves, and I wonder.
Why am I so keen on fighting with myself—with others—when all can really do is stretch out my arms and pray?
I will choose to love everyone I meet. I will treat her as my friend and I will dare to hope, even when it feels like my heart has slipped from angelic, nimble fingertips. I will trust in a power greater than I, and I will refuse to surrender myself to rage.
I will shield her with wings of my own.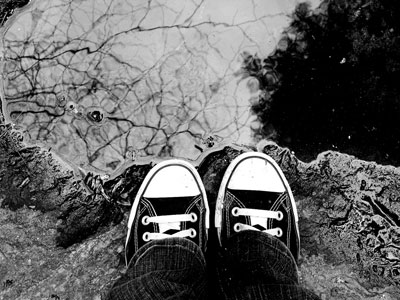 © Michelle B., Blairsville, GA