My Story
April 2, 2017
As the child of an immigrant, I have always being torn in two directions. I want to fit in with my peers who have boyfriends, go to parties, get C grades, and live by the saying "yolo." But, at the same time, I have the obligation to become successful and make something of myself. At the end of the day, there is nothing for me to fall back on if I fail. The thought that my parents came here just to give me a better chance of success is an anvil on my back. There is no room for failure, because failure won't help me support my parents in 20 years or teach my future children to power through adversity. There is a long line of family dating back farther than I can remember who are watching me and crossing their fingers that I don't fail. But, this doesn't mean I can't make mistakes. I should not be afraid to fail because I was given the best chance to succeed.
When I was two, my grandmother or ammamma began learning English. She lived her entire life in a tiny town in Hyderabad, India where women stayed at home cleaning, cooking, teaching, and raising children. So, there was never a need to learn a language that would never be useful to her; a language that represented opportunity that could only be afforded to her children. But, when my mom had my brother and me, my grandmother decided that she wanted to learn English. We never asked her why, but it was clear that she had struggled for so long to communicate with us and just wanted a way to ask us about our days and tell us stories of our family's past.
It was then that I realized I am not here on earth, in America, in Georgia on my own. I am here on the backs of my family, family I don't even know the names of, family long gone to remember. But, no matter how insignificant they seem to me, they are all the reason I am here today. My great grandfather who passed at the age of 102 months after seeing me for the first and last time. My grandmother who taught herself English just to be able to communicate with her grandchildren thousands of miles away. My aunt who lost her only son to cancer who hugs us as tight as she can the few times we get to see her. My cousins who read up on American pop culture before we talk to them on the phone just to make us feel more comfortable around them. My mom who tries her absolute best to fit in with the perky, PTA moms just to help me fit in better. My dad who comes to every one of my events, and tries as hard as he can to talk to my peers' parents no matter how uninterested they are in what he has to say. This is where I come from, my chapter's exposition. I am a part of a bigger picture, a story dating back hundreds of years to my great grandparents that saw America as only an unattainable dream. I must work hard not because I am obligated to do so, but because I must continue this story for as long as I can.
When my parents decided to leave India and everything they knew behind, they were picking up a pen to start a whole new chapter in this story. A chapter filled with unlimited opportunity and hope. Now it is my turn. I will fill this chapter with pages and pages of writing that mean something to my family story. I will make my family proud, and I will never succumb to the idea that I am less than someone who seems more "American" than I am. When my time comes to an end, I will pass this unintangible heirloom onto my children.
All we can do is hope that our stories will be filled with the never ending pages of amazing events and a perfect plotline. But in every chapter, there will be sacrifices and cultural differences that act as inciting incidents for numerous conflicts spluttered all over the pages no matter how many generations pass. In truth, a family legacy is the everlasting story they leave behind. I pray that ours will be beautiful.
Our family story has had an impressive beginning but the rest is unwritten, and it is now up to me to continue it in a place thousands of miles away from the story's origin with oppurtunities unimaginable to the its first authors.
I am more than my own story. I am the climax of the struggles, failures, and accomplishments of my entire family dead or alive, far or near, rich or poor. I represent much more than just one person, but everyone who is responsible for making me who I am. The day I forget this is the day I forget my entire story. They say that right before we die, our minds play back several images from our lives as kind of a tribute to everything we've been through and what we've accomplished, all under 1 minute. When push comes to shove, everything we work for leads to this last minute. I hope that in my last minute, I will see images of my accomplishments, my struggles, my failures, the impacts I've made on my family story and above all, everyone who gave me the chance to see all this in my last minute. The chance to live my story.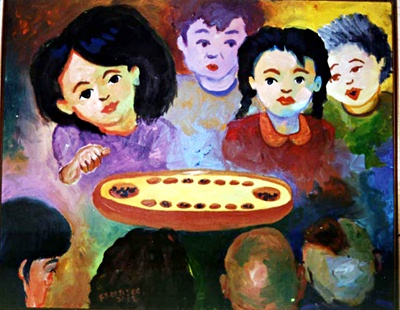 © Fransisca A., Surabaya, Indonesia