A Day Without My Dad
March 30, 2017
A day without traveling with my dad. I woke up I asked my mom if we were going to my mom's friends house. My mom woke up my dad telling him,"Javi despiértate vas a ir con nosotros?" "Dijo q no! que los vayamos solos q el se iba quedar en la casa!" We left around 8:00am. We tooked our red honda car. We then called my mom's friends asking her for her address.
There was a lot of traffic and the sun was really warm. The traffic was really bad there was a big car crash they closed three lanes and only one lane was open the cars were going into the lane. One hour passed. We were in Gilroy there was more traffic there was the mall that we went to on Saturday or Sunday. We stopped for gasoline at Chevron my mom had asked someone to lend them money she was saving up for the rent she tooked 500 dollars out of the rent she tooked extra just in case in an emergency. While we were there my brother and sisters were hungry they didn't eat breakfast. She went back to the gasoline shop and got two bags of chips and two sodas. She told us to share she didn't want to waste to much money. Two hours passed I was using my moms phone and I was on my snapchat texting my friends. When we were 20 minutes away from my mom's friends house we called her. We stopped in front of the house we didn't know where she lived the internet connection and cellphone service didn't work. Then this one car stopped by and went slowly it was her in her new car with her uncle. We were starving we were in the car sitting for like five hours since there was traffic. We got off the car we were in Terraville in Fresno. Her town was really dry you could see people working in the fields people ordering food at the food trucks. We were at her farm there was chicks, goats, pigs, roasters, frogs in a little pond, and there was five cute dogs. My favorite dog was the first one they were tied up in a line his name was black he had blueish eyes, he was small and he would like attack me. Karina lived with her uncle and sister they had four kids. Karina my moms friend has a little girl and a boy. I didn't really recognized her son he had cut his hair, he was really tall, and he was funny. Mia his sister I did recognized she didn't change her height did though.
We were starving we were in the car sitting for like five hours since there was traffic. Karina and my mom made carne asada and rice for us to eat with our squirt. We went on a walk looking at all the animals and we were taking selfies and pictures of the animals. We then called our dad tell him we got to her house and that there was no cellphone service there and that if we didn't get a call from him or answer it was because of that. Around 9 we called my dad where he was at. He said,"Aki con tu tío Marcos en la casa de su compadre." He was at there house we asked him didn't you stay home he said no you never asked me to go with you guys. My mom then told me to tell him if he wanted us to go with him. He replied no he didn't care where we where that he was having fun and we wanted to go with my moms friend not with my aunt and uncle. We then asked him for the address and he told us to ask my aunt. We texted her and she send us it. On our way my sisters and brother fell asleep.
We were talking about private stuff sisters didn't know about I was crying knowing my sisters would find out one day about everything she told me that has happened. We were like 10 minutes away from my uncle compadre house. They were staying over for the night with them. My mom told me to clean my face that no matter what I should be happy. We woke up my sisters and told them to get off. It was really cold outside. We walked into there house we went to their living room where they were drinking and they were planning on going to the casino. My mom then told me that my dad didn't want us to go out because he was going to the casino with them. My aunt told us they didn't go because there godmother didn't want to go she didn't like going. We were just planning on saying hi and leaving home but we ended up staying there to sleep. I really wanted to go home I didn't get along with their son he was perverted. We left home around 10:00am. That was my first time on a farm without my dad! I was happy that day except the part where we stayed over at there house.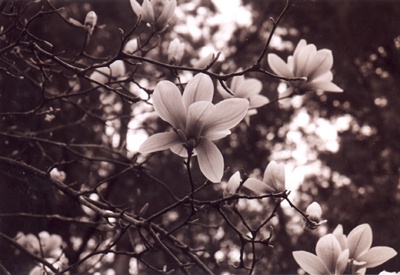 © Lauren T., Hopkinton, MA