Quinceanera Drama
March 30, 2017
It was a sunny day, birds flying, the sun shining, and it was a special day. My cousin Vanessa finally turned 15 on August 20, 2016. I went to her house to bring here balloons and a cake with a picture of both of us when we were little and a picture from now. "Wake up birthday girl!" I screamed, she woke up and got surprised and gave me a big hug. I totally forgot that it was her quinceanera day. I rushed her to go take a shower because we were going to be late for her makeup and hair appointment. Her mom was in a rush and went to Lili's sweet memories. Lili's sweet memories is the place where the quinceanera was going to be. Her mom ran and ran back and forth to get all the decorations and went with the family to start setting up the whole decorations for the party. I had to go back home and start getting ready. Once I got home i saw that nobody was home, and i felt good because now i won't have my siblings bothering me while i get ready. My mom came back home with my family 1 hour later and i looked at all of them and they were all dressed up! My mom was wearing a red dress with her hair curled and makeup done, my brother was wearing a tux and looked fresh and my little sister was wearing a cute pink dress with her pony tails, and i was the only one that was not ready yet. I called my cousin 20 minutes later, "Are you still getting your makeup & hair done?" i asked, "no but i'm almost done, I just need the lady to finish my hair, my phone is about to die so i'll just call you when i charge my phone" she hung up.
(an hour later...)
It was 1:30 of the afternoon and I finally finished getting ready. I had a black tie up dress with white short heels and with my hair curled and makeup done. I got to my cousins house and I was speechless! The first thing I see pop out the door is my cousin with her big puffy sparkly pink dress. I felt like crying but i did not let it out because if I cried, she would've cried too. My cousin and her chambelanes and i went outside and took pictures and after that we all got in the limo. Once we got to our destination, we were nervous because we had to do the surprise dances but good thing we practiced right on time. We all went inside the building and saw about 300 people staring at us and clapping. We got even more nervous, but we all knew we had to do what we had to do for the audience. My cousin and all her chambelanes were going up on stage ready to perform, I was in the table sitting down looking at them do the vals dance. The whole dance went pretty well and we were all proud.
A few hours passed and the party was going great. Everybody was having fun until my cousins friends came in. My cousin has a lot of friends that are boys, she doesn't really hang out with girls. Her friends were calling her over to go smoke outside but she did not want to smoke at her party. "Common lets go don't be scared we gonna be back in less than 10 minutes" her friend said, my cousin got mad and said "I do not want to go but my cousin Gaby can go" I looked at her in a surprised face because she was really sending me with her friends that are smokers and do drugs. One of her friends that were in the group is named Fernando, he was a very nice guy but is still into drugs. "Oh hey i remember you from instagram" Fernando said, i remembered him too but he just looked different but since i knew him, i was comfortable to be with the guys. The boys & I went outside the building and started to play basketball since we wanted to play a little game.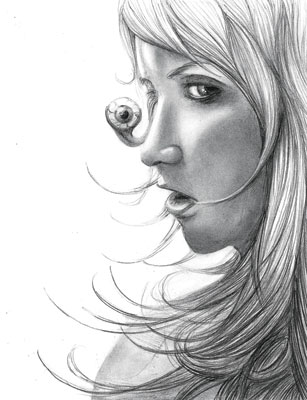 © Jessica P., Bethel Park, PA