The Holiday Season
March 9, 2017
The holiday season is the best time of the year. I love the cold weather and all the winter activities, like ice skating, black Friday shopping, and getting a Christmas tree. I cherish all the special family time I get during this time of the year. My brother and I get to spend a lot of time with our grandparents and cousins and its always so nice to be around them!

When I spend time with my grandparents I get to do a lot of fun things that I would never do on my own. We bake dozens of batches of cookies in then while we wait for them to cool we watch Christmas movies, and my grandma and I always pick The Polar Express or A Christmas Story. After the movies are done we go back to the cookies and make intricate designs on them with my grandmas special icing. Our cookies are always one of the best deserts on Christmas day. After the cookies my grandma starts to make pies while my grandpa and I start to my peanut brittle. My grandpa has made it a tradition that I help him with the peanut brittle, and I don't mind. It's fun and exciting to make since the instructions are so precise. We do other things besides baking, but the baking is my favorite part.

Christmas is my favorite holiday; I love everything about it! I love listening to Christmas music in my car with my windows down and the heat on high. I love buying my friends presents in then exchanging them as we tell each other how grateful we are for them. I love going down the stairs on Christmas morning and seeing my stocking stuffed full and lots of beautifully wrapped presents sitting under the tree. Everything about Christmas makes me happy, and I wish everyday was Christmas day. Not for the presents, for the Christmas spirit. The weather outside is perfect, people are nice and happy, and it's just the perfect time, and it would be amazing if every day could be like that.

Winter break is also very nice. Around the holiday season it's very easy to get stressed out, with finals, buying the perfect gift, and the ACT. Having winter break to look forward to can be very helpful for calming down and taking a long deep breath and staying calm. The first couple of days of winter break I like to sleep in and watch Christmas movies all day with my friends, drinking lots of hot chocolate and ordering food for every meal. Once I get over my period of laziness, I start to do the fun holiday stuff. I go ice skating with a big group of friends and it's always a blast. We have a mini photoshoot on the rink, in then go to dinner to look at the cute pictures and figure out which ones we want to post. I also go down to the Plaza with friends and look at the pretty lights and just walk around. The plaza is beautiful this time of the year.

As you can see, I love the holiday season. Its definitely my favorite time of the year, and I don't understand how some people don't enjoy it. Relax, get some hot chocolate and put in the polar express, and enjoy the ride.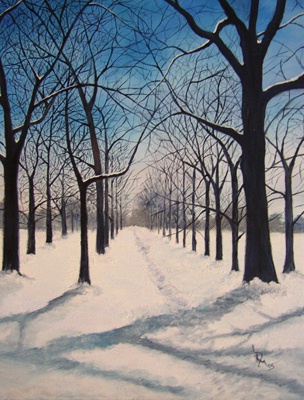 © Lauren M., Scotch Plains, NJ