Cold Coffee
March 8, 2017
I called mom to tell her I was happy and okay.
Drank the coffee hot and fast till the end. I told C I would walk her home.

C lives in fall creek by the Lincoln Street Diner, and I thought about asking her to share an omelet with me. It would have been something E would have done with me (for her) and I wanted to be spontaneous with this girl in bloom. She was closed off to me like cold blue doors, and remember, don't have "crushes" on your friends. The whole time I kept myself in check.

Don't even think for a moment.
Not even a "we'll see," just a no. Hard no.
I asked if I could walk her home and she said yes.
Yes.
I held my coffee while we walked lots of blocks, and said many things to each other. Just because you can't like someone doesn't mean you can't talk to them like there's a fire lit under you. Just because you like someone doesn't mean they are a great fit for you, they can be nice, and you can be implicitly in-understandable.

I didn't ask her for omelets, pancakes, eggs or toast because that would be skipping over forks, and stepping over dinner plates. This girl doesn't use her napkin; long sleeves are for ladies and napkins are for dirty women like myself.

We got within 3 blocks of her house and I realized we shouldn't go out to eat. I got to see her for a movie, coffee and a walk home which was the perfect set. I got to walk her home and it was wholesome and sweet and there wasn't going to be anything extra at the end and I was going to be just fine.
I told my mom on the phone that I was happy about the walk.

I stared at the house in front of me. It had a wall with no windows. I wanted to take a picture and draw windows in for her to see the trees outside.

She said, wow hun, you're lonely, aren't you... I looked at the wall and trash cans. I held my cup and it was cold, and so was I. I felt how thin my shoes were on the bottom, same ones for 3 years ago and said yes mom, I'm lonely.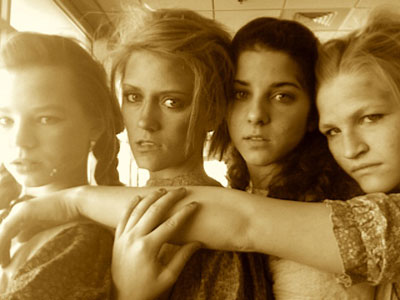 © Sarah Q., Leawood, KS