Stay
March 2, 2017
I peeled off my purple, velvety dress and leapt into the icy water. My skin burned as it touched the frozen abyss. I probably shouldn't be skinny dipping in midwinter, but I'm at a party — not a Christmas party though — it's a birthday party. I got drunk beyond belief; I smoked a little too much. I can't see clearly — the world is a blur. Life is in slow motion. I feel like I'm in one of those cliche-tv-shows where all of the popular kids go to a party and mess up and have some sort of epiphany. The real drama, the core moral of the story, comes after the mistake.
In reality, I'm not one of the popular kids. I don't party every weekend. I don't drink. I don't smoke. I don't skinny dip in midwinter. I sit at home most Friday nights and binge watch The Vampire Diaries

I'm responsible. I'm not reckless. And that's a good thing; I'm in control of my life. But is that always a good thing? Will I ever make the mistake that leads me to that crazy adventure with all of those twists and turns and moments where all you want to do is drown? Maybe. It's a good thing that I'm in control, but at the same time, I want to be reckless. I want to let go. I want to be able to reminisce in the future about my reckless teens. But, I have plenty of time to let loose in college, right?

All of these expectations for my generation seem unattainable. We need freedom. Give me liberty, or give me death! I know that at some point in my life, I will get the liberty to do as I please. I don't have to follow the stereotypes of society. I can travel the world, meet new people, try new things. But that comes later, and I can wait.

So, my purple, velvety dress stayed on. I stayed inside that night, warm and cozy. I stayed sober. In fact, I stayed home. I know that I have a plan, and it's to follow the rules — as confining as they are — knowing that they will keep me in line, out of trouble, and through school. I will risk my independence for a chance at a safe life where I can do as I please without lengthy repercussions. And isn't that what we all want?

The thing that separates me from the others is self control and patience. I don't get tempted by fate far too easily. I am not given a taste of the forbidden juice and instantly become an addict. I don't follow the stereotypes to 'look cool' and 'stay hip'. I don't rebel to gain a 'long-sought' freedom and 'forge a path' to new and exciting endeavors. I don't bend the rules for instant benefit, and suffer from the backlash. I think my ideas fully through, and don't wince at the thought of detention. I don't have an obsession with immediate gratification.

The one thing that separates us is this: I will stay. They will run in fear at the sound of the unsheathing of a knife. They will cower in fright at the sound of a gunshot. They will cringe in terror at the sound of a ruler hitting the desk. They will cry in horror at the sound of the handcuffs clasping around their calloused hands and their bruised knees hitting the driver's seat of the cop car. They fear their independence — or rather, they fear the repercussions of their actions, because they know that what they're doing is wrong.

Freedom. It sounds tempting, doesn't it? That's because it is. Everyone wants it; that's why people bend the rules. Everyone wants the power, the supremacy, the strength to lift buildings and souls alike above the atmospheric layer of confinement. But they need to stay patient. They need to stay present. They just need to stay.

So, to that girl who dove into the freezing water in midwinter: don't do it. Stay warm, stay safe, stay out of trouble, just simply stay. Stay present, stay active. Stay the goddess that you are, reigning from high above the clouds in your temple of stars. Stay the celestial being that you are capable of becoming. Stay in control, and all of this can be yours.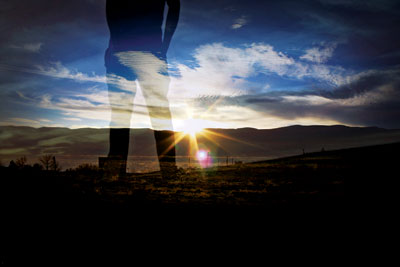 © Ezekiel R.