AWOLNATION's Music Is a Partial Cure For Depression and Anxiety
February 25, 2017
JANUARY

Around minute 1:26, I began to pay attention to AWOLNATION and the song "Sail" from their first album, "Megalithic Symphony".

1:26 is right before lead singer Aaron Bruno shouts, "Maybe I should cry for help! Maybe I should kill myself. Blame it on my ADD baby. Sail!" I was a bit surprised that lyrics that dark would be in the song. There are popular songs that tend to be darker than anticipated ( like Foster The People's Pumped Up Kicks), but I was surprised because I think what he was singing resonated with me much deeper than I wanted it to.
The day I first heard the entire song "Sail" was also the day I spent nearly three hours typing an email to my guidance counselor about my ever-increasing suicidal thoughts and self-loathing. I had grappled with acute anxiety for the past four months, sometimes severe enough the guidance counselor had to call my mom because I was too shaky to drive home. And thanks to January, stress, and lack of sleep, depression was beginning to announce its presence more conspicuously than before. My brain, thoughts, and soul were "darker" than people expected them to be. I hated the darkness, but it seemed like such a huge part of me. I believed was suffering academically and socially, withdrawing from life to the confines of what was going on in my brain.

The tone of those "Sail" lyrics resonated with me so deeply because they seemed to perfectly describe my thinking. I was often torn between "crying for help", then believing it to be futile since I would inevitably be a failure, wondering if I should "kill myself". The failures I "knew" awaited me because of the mess I already was would just be "blamed on my ADD," or in this case, my depression and anxiety. My mental illnesses would be the excuse for my failures and the horrible, dark person I "was".
FEBRUARY

The other songs on this album follow a similar musical, lyrical, and thematic pattern to "Sail", but with different ideas and themes. The 13th song on the album, "All I Need", is a perfect example of what this article by Tiffany Bentley from The Express Times says about the music on the album: "Many of the songs on "Megalithic Symphony" offer a unique contradiction of shadowy vocals accentuating dark lyrics, juxtaposed with upbeat melodies and instrumentation."

If you have the video paused at 0:21, you can just begin to hear the melodies of the piano, followed by the first verse:
It's early in the morning,
I'm laughing at the Sun,
My mirror disappoints me
Am I the only one?
Followed by the chorus: "All I need...is life, love, and you", concluding the first chorus at 1:13.
All of the songs on "Megalithic Symphony" stand out from each other in some way. But this has to be the most individual song on the album. This is the song that begins with the vocals of a Catholic church choir, then the graceful piano, both so out-of-place with lyrics about hating the light of day and the reflection looking back at you. But that's the point of the song. Of course the singer is not "the only one" to have such a negative, distorted worldview. There are millions of people who do. I was one of them.
This was the song I had on repeat in February on my frigid 2 hour walks in my black, NorthFace "depression jacket," hands huddled firmly in my pocket. The way he sings with such a light in his voice, repeating over and over, "all I need, all all I need", made me feel there was hope through so much darkness. I knew what he was talking about. The questions he asks, "Am I the only one" "Am I a disappointment", are rhetorical, but he asks them anyway. In my depression, I knew I wasn't the only one with doubts, or even pain as deep as mine. But I still asked the question. There was also a very faint part of me that knew I wasn't a disappointment, but I still told myself I was. I sometimes felt I was an inherent disappointment simply because I was in this pain and very limited.

However, after Bruno ponders whether he's a disappointment, he sings, "I'll blame it on the pain." Bruno speaks often about facing the truth of our situations, and that it's important to face what is bothering us. Some may interpret what he says as using illnesses such as depression and anxiety as scapegoats of sorts, to try and avoid the existential questions we all must answer. But he may also be saying that we should be blaming the asking of the questions on these illnesses. They are what fill our realities with a lie.

The song also provides the listener with a "way out" of sorts, with the repetition of the phrase "all I need". Neurotic illnesses like depression and anxiety seem to include a sense of loss or searching. You are searching for what will make you beautiful, or smart, or significant. You worry so much that your body and senses revolt. Depression is oftentimes a grieving period. All you do is hate your current self, sometimes your past self, and typically want your "old self" back. You want what makes you worthy, happy, fulfilled, and "normal".

But AWOLNATION was so helpful for me to put some of that pining to a halt. "All I need" was in front of me. I was lucky enough to have people who cared about me when the world was so hard to deal with. Love has the power to make an illness so much more bearable. The song not only reminded me of the people around me who could help. It made me feel Aaron Bruno wrote this song for people like me, literally singing this song so I could hang on a bit longer, that I mattered even though we've never met. The song made me feel a part of something. It acknowledged my pain while also providing me with hope.
MARCH
The final song by AWOLNATION I'll talk about is called "Run", from their second album of the same name. "Run" is a lot like "Sail". According to a Red Bull interview with Aaron Bruno: "'Run,' the first song on the new album, is a dark, minimal and noisy song. You're singing about humans doing terrible things and lightning is striking everywhere. It's an intense experience. Where does it come from?" To which Bruno replies "I'm very aware that I have low moments. A lot of things come our way in life that are heavy, and we have to make a decision about which road to take, and we're all capable of making terrible decisions and doing great things, too. The song is setting up the journey of the rest of the album, setting up the dilemma, and how we deal with it. Admitting our faults helps us to grow; identifying the problem is important." Bruno has two versions of the song: the original, about the "terrible things" humans are capable of doing, and a second one, which replaces the adjective "terrible" to talk about "beautiful things" humans are capable of.

"Run" is a well-written, intense, and unique song, but it's far from being one of my favorites. But it's important to include because of what message Bruno tries to convey to its listeners. Bruno doesn't say mental illnesses like depression and anxiety are a choice. They are brain disorders that need to be treated like illnesses. But no matter how much pain you are in, no matter how much your brain distorts the world around you, if you have access to resources, even something like music, that give you a sense of hope, you can hang on. Even if you aren't lucky enough to have those resources, there is something about the will to just live and breathe, no matter how miserable you are, that keeps people alive. Suicide, for example, is a terrible decision millions of people with depression make. It's one that hurts many, but ultimately it erodes every opportunity for the depressed person to see a light at the end of the tunnel. One could argue that the person who takes their life is a coward, or selfish. But I don't think anyone can argue against suicide being a terrible decision in every sense. Thanks to my depression, it was a decision I very nearly made.

But Bruno does not fail to mention the "beautiful things" humans are capable of accomplishing. Even though depression is no personal fault, it does hinder our ability to move forward in life. It is important to "identify the problem" and work to address it. As much as people don't want to face the pain of depression, we have to if we want to better ourselves and the people around us. We have to talk about "the terrible things" and "the beautiful things". If we leave our problems in the shadows, it prevents personal growth, reinforces our own shame, and reinforces the stigma society has surrounding mental illness. The two versions of "Run" add to this conversation, and they do it quite well.

In short, I know why AWOLNATION works for me. It works because the lyrics, music, and albums are all organized to create songs about real things people go through. While there would be one song cursing the darkness, noting it with such clarity, the next song, or even the next moment of the song, would be filled with hope and light. The power of the music was enough not to fill me with utter dread to return from my depression trudge to my house of problems. It was powerful enough to get me out of bed to take a shower. It brought me hope while acknowledging my pain. Sometimes it sang so beautifully about my pain, it screamed about it, it acknowledged it when for years I prayed it would go away, because it was "wrong" and I needed to be "more positive". They are musical but also quite genius in their lyrics -- so genius, they can be healing. Even when the words didn't sink in, when I had trouble concentrating on everything in school that didn't speak to the horrible pain I was in, the music was so good regardless.
AWOLNATION's music is able to unite people with words that resonate. It may be the words people have been looking for their entire lives, and it may help them to change the road they are headed towards. While I've only shown three songs, this is the effect of all of their music. Their music has not only helped me by acknowledging my pain and showing me a way out, but also by fulfilling what humans as a whole need: To feel things, to ask questions, to be honest, to acknowledge what is happening to them. Their music can be a catalyst for taking the next step, for accepting and recognizing who you are, what the world is, and the light at the end of the tunnel.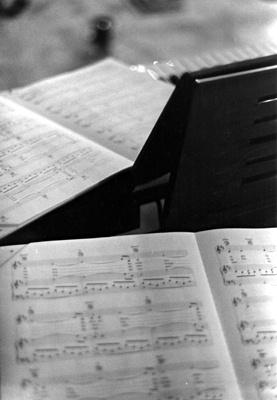 © Jessica M., Lansdale, PA