New Normal
February 5, 2017
I'll always remember the terror, pain, and fear I felt that night when the man who I trusted, my father, betrayed me. It was a chilly Saturday night in the year 2007, the brisk wind howled as it whizzed past the house that was holding my seven year old self. My parents had separated in 2004. My dad had finally moved out of his sister's house and into his first apartment and my sisters were both at boarding school. These changes meant I was alone on visits with my dad. We had had a typical Saturday together. These consisted of waking up early, going to Starbucks, taking the dog on a long and tedious morning walk, biking into town, getting lunch, going to his office so he could work, going to dinner, then going home. Although, something about this particular Saturday was different than all the others.

I climbed into his rusty, old, brown suburban that was falling apart with chunks missing from it and we drove out of the restaurant parking lot. My dad has always been a fast driver, it would scare me as I looked out the window and saw all the trees and buildings turn into a blur as we traveled at the speed of light.

"Daddy, can you slow down?" I asked.

"I am not even going that fast! God why are you accusing me of being a reckless driver?! Did your mother put you up to this?! Huh? Did she?! God she is such a witch. I honestly do not understand what I did to deserve any of this bullsh*t from you guys." He replied as he slammed down on the gas pedal making the car accelerate at an alarming speed. I pulled my knees close to my chest, tucked my head into my legs, and closed my eyes hoping to escape from this nightmare and into my perfect world. All the other seven year old's in my class had parents that were married, had siblings that lived at home, did not have to worry about their safety and whether they would make it out of the car alive. When we pulled into the entrance of my father's apartment complex he slowed down, but only a little bit, ignoring all the speed bumps. He took a vicious left turn into his driveway and slammed down on the brakes, bringing us to a sudden halt. I looked at the car's clock, it was seven thirty, a new episode of my favorite TV show was starting. I leapt out of the car, swung the apartment door open, and scurried up the stairs like a squirrel up a tree, and turned on the TV. It was a scary episode tonight, all about vampires and killing people. I heard a door slam and I turned around, bringing my attention to my father.
"Where are you going?" I asked. He did not respond, he just continued to look down at the once white carpet and refused to make eye contact.
"Daddy? Where are you going?" I asked again, with more nervousness in my voice.
"To walk the dog." He finally responded, with his eyes glued to his phone.
"But I do not want to be alone. Please do not leave me." I begged, getting up onto my knees on the dark, crimson red couch.
"Then come with me." He said with no expression, as if he did not want me to join.
"But this is a new episode and I want to watch it. Can we go after?" I asked.
"No. He needs to go out now. I will only be gone for five minutes. You will be fine, you are seven… you can handle being home alone past seven thirty. Grow up a little." He said, and with that he walked down the stairs, out of the apartment, into the car and off of the premises in only a matter of seconds. When my TV show ended, I looked at the clock; eight fifteen, and my father still had not returned. I had been spooked by the vampire show and wanted my father to be there to protect me, but he was nowhere to be found. So I stood up onto my two little legs, walked over to the landline, and dialed his cell phone. No answer. I called and called and called until I had been sent to voicemail seventeen times and decided to give up. I sat back down on the couch and watched a different, happy, TV show. Maybe his phone is dead. I thought. He will be back any minute now. Do not worry. I tried to reassure myself, but it was all a lie. After that TV show ended, I looked at the clock and it read eight fifty, and still no father. I decided to call him again, with the hopes he would answer this time, but he did not. As a tear ran down my face, I called my sister, Missy, with the belief that she would be able help.

"Hey, what's up?" She greeted me.
"Missy! Dad took Chance on a walk and said he would back in five minutes but it has been over an hour and I tried to call him but he did not answer and I am really scared because he is not here and I am watching a scary vampire show and I want him to come home. Help!" I said as I bawled my eyes out.

"Okay. Do not worry. I will try to call him and see if he will answer me. In the meantime, you go watch another TV show and take your mind off this. Okay?" She responded.

"Okay." And with that we both hung up the phone and I curled up into a ball on the crimson red couch, clutching a pillow that, little did I know, would be help me in the near future. After another thirty minutes went by, I heard the slamming of a car door and the stomping of a person outside the apartment. He is back. I thought to myself.
"Hey!" My father howled as he sprinted up the stairs approaching me.

"Yes?" I said as I sank down into the couch.

"What the was that?!"

"What? What did I do?" I responded with a voice so quiet a mouse could barely hear it.
"YOU CALLED MISSY?! I SAID I WOULD BE BACK IN FIVE MINUTES! LOOK AT ME! I AM RIGHT HERE! GOD WHY WOULD YOU DO THAT?! I CAN NOT BELIEVE YOU ARE THAT STUPID! YOU NEVER THINK!" He screamed at me.

"You were gone for 2 hours and 40 minutes…" I replied, standing up for myself.

"WHAT THE F***! NO I WAS NOT! THAT WAS FIVE MINUTES! AND WHAT WAS THIS MISSY WAS TELLING ME ABOUT? SOME VAMPIRE SHOW YOU WERE WATCHING ON DISNEY! HOW COULD THAT SCARE YOU? GROW UP! YOU NEED TO BE MORE INDEPENDANT! SLEEP IN YOUR OWN ROOM! ORDER YOUR OWN FOOD! STAND UP TO YOUR F***ING CRAZY B**** MOM FOR ONCE! WHY ARE YOU CRYING?! STOP CRYING!" He screamed at me. And in that moment, my relationship with my father changed forever.

As he ran to the couch I was on, I leapt from the couch and ran over to the doorway of the room, ready to run. He thrust his hands toward the black landline that was mounted into the wall, viciously ripped it off, and hurled it at me with all his strength. I backed up as the phone was flying through the air and then it landed on that little pillow in the spot I was standing in before.

My body froze. I could not move my limbs. I had lost all self control and could not get it back. All I could do was stare at the enraged man that resembled my father, standing in front of me. All I could hear was his heavy breathing and the voices in my head telling me to run, but I stayed. I looked up at my father with my big blue eyes that had rivers flowing out of them that were so vicious, not even the strongest beaver dam could stop them. He rushed over to me, realizing what he had just done, but I dodged him and went to the opposite side of the room as him. He was in the doorway, I was up against the wall. There was no escape from the Dr. Jekyl. I was trapped.

Filled with frustration, he kicked the railing of the stairway. I continued to look at him and dropped to my knees, bawling my eyes out and holding my head in my hands. Why is this happening to me?! It is not fair! None of my friends have to deal with situations like this! I thought to myself.

"Hey…" My dad said as he slowly approached me.

"Do not come near me." I pleaded.

"Hey…" My dad said again, still coming towards me.

"I SAID NO!" I screamed, looking up at him with tears streaming down my face. With every step he took towards me, I backed up. I felt my back slam into something hard behind it and turned my head around to find myself against the wall. Now I was really trapped. My father was so close to me I could see the stubbles of his shaved mustache and beard, and the wrinkles in his face. I tucked and rolled out from his line of fire and bolted upstairs to my room, slammed the door shut, locked it, and dropped to the ground. I sat with my head between my knees, wishing for my mother to be with me. I brought myself to standing and walked over to my mirror. You are strong. You can do this. You are better than him. Stay in your room until it is absolutely necessary to leave. I tried to reassure myself and gave myself a hug because I knew I needed one and my father would not give me one, nor did I want one from him. I changed into my pj's and climbed into my bed, holding myself, continuing to reassure myself that everything was okay. I looked up at the clock; ten o ten. Less than fourteen hours until I would be safe again… until next time.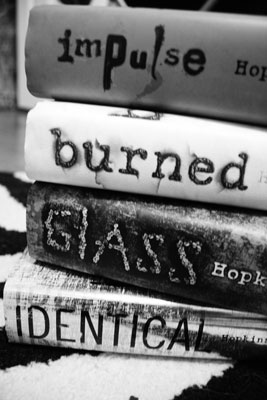 © Bria B.