The Wait for States
February 22, 2017
18 years until we finally did it, 18 agonizingly long years. A year full of ups and downs had finally reached its climax. It had all come down to this day, this moment. Everyone on the edge of the stained bleachers, ready to either erupt in joy or collapse in defeat.

Rewind to the beginning of the day. The sun's dragging itself over the horizon much like us 30 languid middle schoolers who drag ourselves onto the bus. It's a fiery haze of red and orange. Backpacks, laptops, cheat sheets, robots, and most importantly duct tape are finding their spots on the bus. In case I haven't mentioned it already, today's a big day. Our goal: Science Olympiad States.

We get to Adrian College at around 7:30 a.m. and the mood's energetic to say the least. The uncoordinated movement, collisions and panic are analogous to the atmosphere of a beehive. I don't have any events in the morning so I stay in the homeroom studying for my events. As we progress through the day, the panic fades into the background and everyone gets into a little bit of a mechanical rhythm. Go to your event, eat, and play football (yes, science nerds can play sports).

Soon enough I am finding my seat in the stands, waiting as the knot in my stomach kept getting tighter and tighter. Five and a half months of toiling and here we were. They play music to try to distract everyone from what will unfold. A half an hour later it's finally time to begin the proceedings.

The head coaches have their clipboards at the ready, listening to the results and recording them, to give us an idea of whether or not we were going to receive that yellow envelope with the invitation we had envisioned at the start of the year. We started off emphatically, with two firsts of the first three events. Then we hit a lull; that familiar feeling of panic started to build up. But we kept reassuring ourselves that as long as we could stay within touching distance of Hudson we would have a chance of beating them. My first event was an event that tested students on aquatic ecology. Me and my partner Justin managed third place. Not too bad, but we could've definitely done better. My second event, was a disaster. We were supposed to design a robot that moved objects into target zones, but come competition day, all it could do was flop around like a fish out of water.

My final event was the one I was optimistic about, the one that could potentially get us over the line or fall short of it. It was a huge event, to put it bluntly. We wait, anxiously, as the announcer goes down the list from sixth place. I cross everything on my body that I can cross, close my eyes shut and wait. After what feels like an eternity, the announcer finally gets to the top two spots. The announcer says, "Second place...Hudson Middle!" A groan erupts along the bleacher where our team was situated. All still eager to know who won but most predict it'll be Slauson. However, life seldom turns out the way one expects it to.

Eventually the announcer steps up to the podium, takes a breath and says, "Coming in first place... from Ann Arbor, Michigan, Clague Green!"

The rest of it is a blur. A cacophony erupts as I stumble my way down to the gym floor, and run as fast as my legs could take me to the podium of ribbons and medals. I remember the medal distributor's bewildered face as I snatch the medal straight out of her hands and bask in the glory, until my partner barrels into me screaming and yelling like a maniac. Then, I knew we're going to go to States.

We celebrate our way back to the bus. We aren't going to let this moment go, because we'd earned this moment. We'd given our fingers to exacto knives and soldering irons, just so we could make this moment a reality. And finally here it was.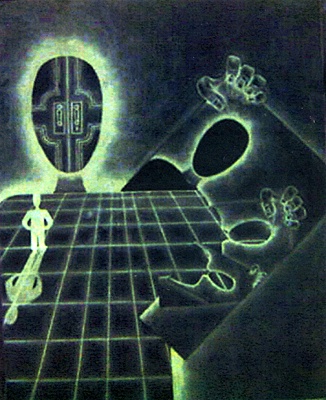 © Andrew P., Muleshoe , TX