I Finally Fell to the Ground
February 11, 2017
There was a time when I felt like standing on the edge of a cliff, even a gentle wind could push me down into the abyss. I was always surrounded by people, nice and good people, yet I desperately wanted to get away from the crowd and end all the relationships. At the same time though, I pictured myself a piece of dead wood, floating on endless water, and wanted so urgently something concrete and solid to lean on. It was a miserable experience, to be constantly hurt. Pain demanded to be felt and expressed, but I wasn't bleeding and didn't even know what in me was wounded.

I always liked the sea, but myself was more like a volcano,  destructive to both myself and others. Yet little people could see the truth. They praised my gentleness, my composure, and even my independence; they told me their sorrows and were amazed how I absorbed them without a trace. Sometimes, even myself was lied. I almost believed in the fake side of myself.

But volcanoes would always erupt, usually without any omens. Deeply, I would burn myself and those closest to me, leaving behind crevices filled with tears and unrecoverable broken hearts.  

I guess somewhere deep in my soul – if soul doesn't sound too hypocritical to you – I have never stopped disliking myself. I hated it when I didn't have the courage to leave the crowd; and I hated it when I didn't have the courage to swim to any destination, even if it was just a try that doomed to fail.

I just kept wondering why I was still loved, given the truth I was so unworthy. I just kept wondering.

How could he, after seeing how selfish, childish, excessively sentimental, and ugly I actually was, still not willing to just let me be alone? How could he still be there and tell me:" Today is a good day, and tomorrow will be even better," as if we just went out for a picnic?

I lost myself. Vaguely, I was not sure whether it was something I most wanted, or something I was most afraid of. Suddenly, I thought of a dream I had several years ago, sitting in the dark behind the stairway. "Come on," he said. I bit my lips and kept shaking my head. At length, getting tired of reaching out the hand to the air, he turned his back and ran away. Sitting there, engulfed by the quietness, I was eventually relieved, like a bird that finally fell to the ground after a exhausting fight. Pong. Silence reigned.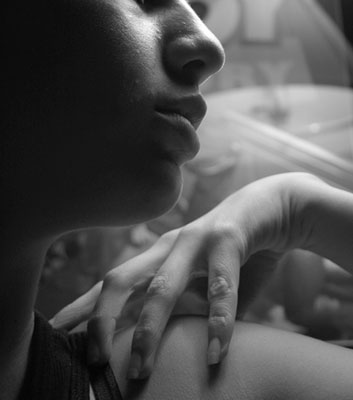 © Rebecca B., Santa Clara, CA