Guilt
February 13, 2017
My happiness flashed before my eyes. Right when my outraged, infuriated father charged into my school, I knew it was game over. I could feel the anxiety biting into my conscious. That's when the tears came bursting out. I ran as fast as I could to the nearest restroom, though I wanted to run farther. I wanted to run away from it all, I didn't want to deal with my parent's disappointment and their toxic shame that they bestowed on me. I wanted it all to be over.

Looking back from that perplexing, horrendous moment I knew that I wasn't completely faultless. I knew I had done things my parents wouldn't approve of. I went out with guys to unwanted cafes my parents warned me about -but the temptation of doing something that others could do got to me, and maybe that is not a valiant reason; yet, it was at least a reasonable one. My parents have kept me locked in my house for years: I wasn't allowed to go out, I wasn't allowed to have sleepovers, and all my weekends were spent by my parent's side. Yet, when I went out with my friends I could feel enjoyment in life that I had only read about. The contentment of being able to hang out with other people was memorable and, I believe I took it for granted.

I had done things that to my parents were shameful, but to our 21st-century society would be considered as normal. After my dad walked into my homeroom teacher's classroom, like a lunatic, demanding about something that my teacher had no control over was embarrassing. It showed that my parents thought of me as a raging wild-child. The worst part was that at the end of the school day I had to face them and I didn't think I could. For the reason, their shame brought this guilt to me, and I believed that any teenager would feel the same way if your parents were micromanaging your life. Actually going back to it, that wasn't the worse part. The worst was knowing that you were a failure to them, and the things I had done, which sincerely weren't as horrible as they sound, made them believe in you less and criticize you even more. All of those emotions got me down, made me think I wasn't worth anything.

Now that time has passed by, my parents got over it. Yet, they still have no trust in me. This thought discourages me, but I have moved on and gotten a grip on myself and my life. I know I'm not perfect, but I'm just a human being learning from my mistakes and from that day that my dad charged into the school I have been more cautious. I believe parents that are too invested in you being an exemplary perfectionist- meaning they are trying to be the worst kind of parents because they don't care about your emotional state, your concerns, or your fears. All they do is add more to that until you are built into an emotionally unstable human. I understand that parents want the best for you, but how can you want the best for your child if you're not listening to what they want and helping them with their troublesome ordeals? How can you want the best for your child when you make them feel like you don't care about them? This question always remains tattooed to my mind every time my parents lecture me on how I am worthless. Stupid. Shameful .When in reality you are a teenager who locks themselves in their room doing nothing, wasting your life, and just because your parents made you do so.

After my dad walked into that school I realized how unhappy I was. How pathetic my existence was. My teachers saw it too, my friends, my enemies, everyone knew how sadistic I had turned. Yet, I changed my life around. Sure, I hang out with guys, I go to cafes my parents warned me about, but I realized, they don't have to know and maybe it's a bad thing that they don't. However, this experience has taught me that as long as I am happy, that's really all that matters.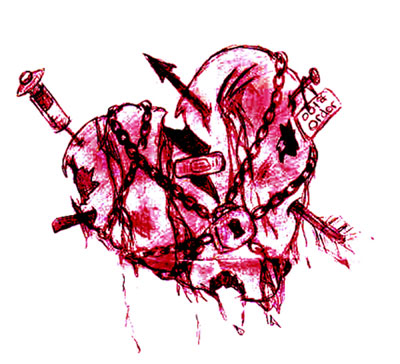 © Asia B., Hudson, MA