High School
February 8, 2017
Every kid dreams about when they will be in high school. It seems so far away but when you blink your eyes, it is time to take that big leap. There are thousands of things I wish I would have known before I got into high school, but if I could say just three things to someone this is what I would say:
First, do not take things too seriously. Yes, grades and going to school are important but take it easy. High school only lasts four years, but it will go by faster than you think. School work will get the best of you sometimes. You will be overwhelmed by homework some days, but do not be afraid to take a break and live a little. Make good relationships with your teachers and your classmates because they are the people you will see for the next four years almost every day of the week. Be respectful and do not be afraid to learn something new. Work hard and enjoy these days of your life.
When you walk into high school one thing you will think about the most is fitting in, it is what everybody thinks about. Being "popular" is pointless. Find someone who gets you and does not judge you for the things you like to do. High school can shape you into something you want to be, or it can make you into something that you're not. Be yourself and if that's not good enough for someone I promise there's someone that understands you more than you understand yourself. When the days of your high school career come to an end, you will thank God for the people he put in your class because most were made into family and the rest helped you realize how much better off you were without them in your life.
Everyone makes mistakes. Trust me when I say, It is going to be okay. Living in a small town, when someone makes a mistake everyone hears about it. Making mistakes is just a part of life. Some people make bigger mistakes than others, but it will all get around town. Just learn from it and move on. Let people dwell on your mistakes if they need to, and just do not worry about them. In five years you will be in college and everyone else will be doing their own thing. Through your mistakes you may lose people and that is okay because that is God saying, you do not need those people in your life. Live through your mistakes and grow taller knowing you did the wrong thing and you learned from it.
You will cherish the memories you make in high school the rest of your life. The teachers, the people, and the place will all be missed one day. It is one of the most important parts of your life. Don't let anyone change you, do your best, and have fun.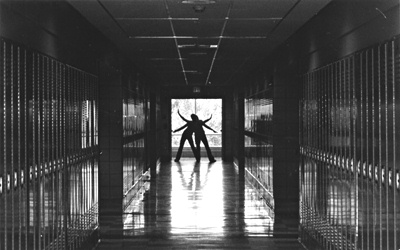 © Sheera G., Marblehead, MA