Choice
February 6, 2017
One day, I was playing my flute surrounded by friends and acquaintances that I had met three years ago. The Carl Sandburg band had been what I enjoyed for the longest time and the most in eighth grade.I just loved and craved the that feeling when the part I played had fit right into the sound of the song with all of my friends. Even though I had loved being a part of the band, I knew I never wanted to turn this into a career as I never saw this as a job for me. I was torn between what I love to do and what was better for my future personally at the time. That thought plagued my mind for quite sometime as the schedule planning was meant to be in the middle of April, which had been tomorrow putting a little bit of stress on me. As band practice came to a close, I racked my mind on the subject.

I put everything away except for my lunch and made my way to the lunch room. As the aroma of the school food hit my nose, I was ready to eat. I sat down in my usual spot near the doors that kids streamed out of during passing period and among those people, my friends Jacob and Ryan. These two were both in band and always helped me when I needed it. I decided to talk to a them for helping me decide. I consulted Ryan about my thoughts bubbling in my mind. "Do you think I should leave band for classes that might help me more than band will?" I asked out of curiosity that might, just might sway my opinion to one side or another.

He replied almost instantly with, "I think you should just stay in band, I really enjoy it and I hear the upperclassmen next year will be really fun." With such a quick reply, I was unsure to take such advice heavily as he might have not really thought through it as much as I have. Aside from that single point, there was the fact that he loved music and band,every part of it and even considered doing two different instruments. Searching for another opinion, I gestured to Jacob as if asking it once again.

"You should just do whatever feels like it would satisfy yourself that most," and without stopping also added, "but it is truly your choice to make." That was the problem, it was my decision in which I would either be absolutely glad with or quite regretful of. After what seemed to be an impossible silence within our table, we carried on as if nothing happened. Their conversations were filled with scheduling for the coming year without the uncertainty that I had. I envied them for being able to decide without having to think about, already knowing what to do. I sat there quietly, thinking over their responses with no definitive answer.

The day of when I needed to make a choice and I haven't come to conclusion yet somehow as I want to do both band and extra specific classes for majors. I could hear everyone in the same grade just speaking about their classes all very confident in their choices that were set in stone in their minds. I wish I had their resolve in these matters, or just had easier choices, either one would have been welcome. Since this wasn't the case, I decided to just talk about their classes and try and forget my problems as well.

The next few hours flew by and by the time I knew it, it was my turn as to talk to my counselor and choose a class. I was thinking about what I should do, do something I love to do, or something for my future. I walked through the door and looking around the school library that was now full of others meeting with their counselors and people waiting just like me. I stood and wanted to be given more time but I knew that wasn't possible as it was a schedule that didn't have much room for fiddling with. I took deep breaths standing next to the counter and just stared at my options, knowing very quickly that I would need to choose. The librarian walks up to me motions me to my counselor. I took a seat as calmly as I possibly could and hoping that none of my problems in my head would express themselves. She then started asking, "What courses would you like to take?"

"I'm going to take all of the main courses as suggested," I responded. I really had that figured out at the very least with my top classes being my top priority. But then came the next part.

"And what about your electives? You had band this year, would you perhaps like to take it again next year?" she asked with sincerity. I realized this was the moment where I had to decide, not because I couldn't change it, but because this was the only time I would actually choose for myself. I played the advice from my friends and I came to a conclusion.

"I would like to quit band and do some other elective courses," I finally said without absolute certainty after some time. It was set, with this decision I knew that I wouldn't change my answer so that I didn't need to think about this and move on. I was helped on finding the other classes and I was on my way back to class. I walked gleefully down the hallway knowing that I had made a decision that would help my future. I walked back into the classroom and spoke to both Ryan and Jacob. They both simply told me that it was my choice to make and never theirs and that I should stand by it no matter what. They took my decision as just a matter of fact and moved on. I talked to some other band kids I didn't really know and some actually did the same thing as I did for the same reasons, making me feel a little more confident with my answer.

A few months past and I realized what I missed out within band, all my friends are still apart of it and enjoying it more than ever. I at first thought perhaps the choice I made was wrong, maybe I should have just stayed with them, but I came to realize that I made a choice that would benefit me as I saw fit and gave me the confidence to do what I believed was right, own what others want me to do and make my own decisions.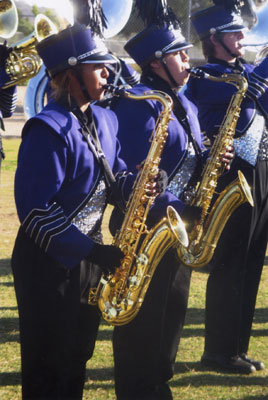 © Laurie R., Phoenix, AZ