My Plan
February 6, 2017
In the future I want to be a chef or a professional basketball player, even though one is more reasonable I have a plan for both. My plan for becoming a chef is simple first I'm going to go through some culinary programs during high school, then i'm going to go to culinary school for college, and for basketball it starts with just training and getting good grades so I can go to college for basketball. I think these are some things that are going to end up changing and helping me achieve my ideal self.
Part of being my ideal self I think involves a lot of leadership qualities and an overall healthy lifestyle, and that's where me training for basketball comes in. I feel that if i were to train for basketball, and keep playing, then I would have a lot of leadership qualities from being on a team itself. I also think that leadership would come with helping out my teammates if they need it, or just making sure they don't get into trouble. If I were to get a scholarship, I could get one in any different ways. One way would be for me to have really good grades, then I can go to the college and try out for the sport. Another way I can get a scholarship is by training and getting really good at basketball, so I can play and attend the college for free. When I tell my family that I want to be a pro basketball player, they always tell me

"you're to short to be a basketball player."
And I would always tell them

"So what, if I train I can get in, I mean look at muggsy bogues, he's 5'7"." The healthy lifestyle would come from me going to practice everyday after school, and then after that going to the rec center to go workout some more. If I were to keep doing that, and change my eating habits then I have a strong feeling that I will reach my goal of living a healthy lifestyle.
My ideal self also includes me being a chef. For me to become a chef I want to take foods class junior year and also go to tech campus, and start taking some college culinary courses. After I take those classes, or at least I hope I take those classes, I want to go to either CLC and go through their culinary program. Or I want to go to Cordon Bleu, but the only problem with that is if I go to Cordon Bleu then I will have to pay a lot more money, and I won't be able to get my business degree to open my own restaurant. Me being a chef would shape my ideal self, because being a chef kind of forces you to be creative, responsible, and take initiative, and those are all qualities that i would want my ideal self to have.
So I might be a little lazy now, but for me to even have a chance to reach my future goals, I need to focus and work hard. Through this process of reaching for what I want I can shape myself into the person I want to be, which is creative, responsible, hardworking, healthy, and a leader.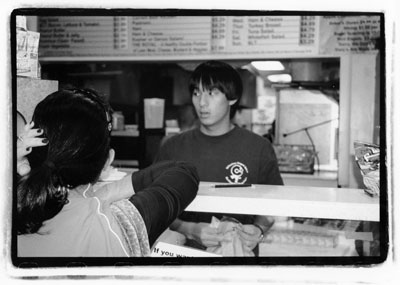 © Rachel D., Bethesda, MD