Three Broken Pencils
MAG
January 9, 2017
They are the only obstruction in my path. Consequently, I am the only one with no intention to dispose of them. Three pencils, all mechanical, short of lead like I am short of ideas. Three that were found on the floor in different hallways. Three practically nonexistent eraser-less. From my backpack, I hear the 0.7 mm graphite slivers rattle around their inner barrels.
Their location is convoluted. They warrant a frantic search through all the leadless pencils. They are always burrowed deep within their designated pocket and require fragile extraction. Otherwise they'd find themselves back on the hallway floor.
Permit one to be used for an important exam, with a successful outcome, it is the lucky one. If misplaced, the second one will take over. A couple of poor quizzes, and it's labeled "cursed." That one gets purposely misplaced, and then the last one gets a turn.
When ideas for a narrative are absent, my excuse is "I can't write with a broken pencil." When incentive and inspiration for storytelling makes its presence clear, I'll pull out the cracked-tip BIC and make my hand cramp. A personal paradox of sorts. Three with stories withheld. Three with stories to tell. Three who found purpose after being tossed, or perhaps dropped, onto white floor tiles.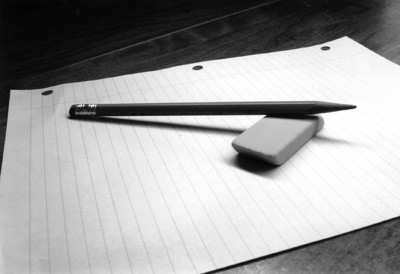 © Michael H., Mildford, CT