The Cemetery
November 21, 2016
The parked car sits ever so lifelessly in a desolate parking lot. She tries to compose herself, as her pale hand reaches for the cold door handle. For some reason ,the door seems heavier this morning. As one foot steps out of the car, a deathly chill fills her whole body. The black heels that are securely wrapped around her ankles click ominously on the dark asphalt below, as her father's dress shoes fall into tempo behind .An eerie silence fills all areas of this place of sorrow, almost to insure they do not wake the inhabitants. Cars of all sizes begin to pour into the once lifeless land. All the cars passengers pile out in a snail like pace, and they too fall into a clicking tempo that leads them forward.

The end of the parking lot brings life to a plot of grass that stretches for what feels like miles. A grey concrete pathway runs through this never ending sea of green, creating a path for all the visitors to travel through . The sun lingers behind a blanket of clouds, casting all that it touches in a shield of grey. The air seems to thin the farther they travel from the parking lot. Slabs of grey line the grass, creating a map for them to follow. One does not dare to look at the slabs, because they tell a story from the beauty of birth to an unforgiving death that all will meet one day. Some stories are long, where others paint a shorter picture. Some tell stories of an epic romance, while others tell of the true horrors of this world. Suddenly she gets the urge to stop walking, but the eerie tempo keeps her going. As the family rounds the corner of the pathway they reached a plot in the grass that appears to be freshly dug, surrounded by metal chairs. As she walks carefully toward her designated chair the black suede heels slowly begins to sink into the grass below. The grass here always seems to be wet, and she takes extra caution to not disturb its residents from their age long slumber.

As they all slowly lower themselves into the icy metal chairs, she is finally am able to take in her ever so familiar surroundings . As a young adolescent she took weekly visits here with her great grandma to change the flowers at her great grandpa's door. Flowers always litter the grass, bringing tones of pink but also tones of grey. The flowers brought with them their fragrance of soft spring air. But the flowers could never truly mask the smell of crisp winter rain mixed with a surplus of tears. Serine music can be heard flooding in from a number of unknown locations. As a child this mystery noise put her in quite a frenzy. She searched every visit for its source, but after a while she gave up on her hunt. Her grandma used to tell her that the music was played by angels in heaven to welcome home all of God's children. Now she realizes that the music is not played for the dead it's played for the living. This whole place was created to help the living grieve the loss of loved one.
A man that can not be much older than 65 , judging by his youthful skin but snow like hair, takes his place in front of the crowd. She sits front in center where her grandmother had asked her to sit plenty of time in her youth. He speaks of her great grandpa first. His words are brief , because he had spoken about their grandpa 7 years earlier, it was her time now. He speaks of their storybook romance, of the 62 years of marriage before death did them part. He then turns the attention to her, grandma. In this moment all sounds seem to lessen , leaving a ghostly chill in the air. Not even the flowers can bask the smell of salt. A steady stream of chill spills down her pale cheeks at an alarming rate, until it is her turn to speak. She stands from her spot and slowly but surely halts the stream that was rolling from her eyes, like a great tsunami . Her dad takes his place behind her and a somber sound fills the air. As they begin the first verse of amazing grace , her voice cracks . The tsunami cannot be stopped. A salty rain steadily fall onto the ground below. Her legs begin to tremble underneath her, so her father must guide her back to the frozen metal chair. Her family sends her saddened glances as her chest heaves in an useless attempt to fix her broken heart. She just wants to hug her one last time, and the thought brings a flood of memories rushing in. The ceremony flys by, and soon her mother is helping her out of her chair, and guides her through the pathway back to their chariot that awaits them in the black sea. Slowly though she falls behind in tempo, her heels feel now like iron weights. She wants nothing more than to crawl up into a ball, and it takes all the energy that she has to keep going.

Before reaching the black sea she turns around to take in her grandmother's new home.Her mouth is full of a salty film as the tears flow like tidal waves out of her eyes. She steps slowly into the green grass, as her heels sink into the damp ground below. The ground is always wet here, as if it is watered by a myriad tears. Whispering what feels like the last farewell to her angelic grandmother, she turns and drags herself to the car. Slowly she reaches for the door, using all the strength she can muster up to open it. As the car slowly pulls out from the cemetery, the clouds seem to scatter bringing the warm sun for miles, as amazing grace plays quietly through the speakers.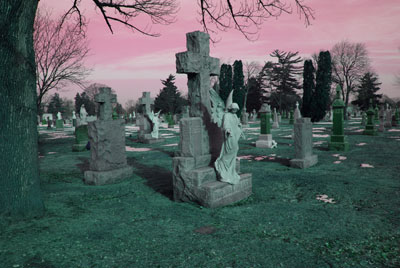 © Lauren M., Avondale, AZ