Trip to Europe
November 14, 2016
In the summer of 2015, many of my relatives and I traveled to the Netherlands to celebrate my grandma's 80th birthday. While I was there, I noticed differences between American and European culture, and I expanded my view of the world.

I had never been outside North America, so going to Europe was a new experience for me. I did not know what to expect. When we landed in Amsterdam, I was amazed by the architecture and the canals in the city. Some of the buildings were over five hundred years old, which is very different than the United States. The buildings were tall and thin, with long windows facing the streets. The cobblestone streets didn't have very many cars on them, but there were bikes and trains instead. In fact, there are actually more bikes than people in Amsterdam! There were also wide canals between the streets, with boats and houseboats throughout them. After spending a few days in Amsterdam, my family and I were ready to see the rest of the country.

We took a train to a very small town called De Zilk. As I walked through the streets, I noticed that all the people were tall, (most of the men and women were over six feet tall) but the houses were tiny. The house we stayed in would be an average sized home in the United States, but it was huge compared to the ones in Holland. While we were staying in De Zilk, we went to

go see other parts of the country. One of the places we went to was Den Haag, the capital of the Netherlands. After spending a week in the Netherlands, we decided to go see Paris.

Paris was very different than Amsterdam, because many of the people there were tourists, not from France. Despite the amount of tourists, there were less people who spoke English than there were in Amsterdam, so sometimes my parents had to remember what they learned in their high school French class in order to speak to people. Paris was a much larger city than Amsterdam, so it was not uncommon to be sandwiched between seven or eight people on a subway train. While we were in Paris, we saw the Eiffel Tower, Notre Dame, and the Arch de Triomphe. It was incredible to think of how people could make structures like that without the machines we have today. We also went to the Louvre, one of the biggest art museums in the world. In the Louvre, it was cool to see paintings I had only seen pictures of.

We spent a few days in Paris before going back to the Netherlands. We spent our final days After spending our final days in De Zilk, we flew back to Portland. I believe that traveling to Europe was one of the most exciting and interesting experiences of my life. I learned that there is much more in the world than where you live.

Going to Europe was good for me because I learned more about European culture and history. Europe may not be as different from the US than Asia or Africa, but it was still good to learn what it's like in a different continent. I think it is important for people to be aware of other cultures, so they can learn more about the world and the people who live in it.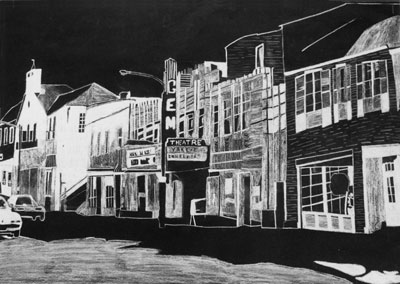 © Chelsea P., Kannapolis, NC