Wrong Place, Wrong Time
November 14, 2016
Is there anything holding you back? You just feel something is supposed to be there but it isn't? I feel this a lot, for instance soccer seems to not be going my way at all. My concussion is holding me back, and I can't break through. Sometimes I feel like my team is also holding me back or my mental thoughts are bringing me down. All these things are holding me back and I can't wrap my head around it.

Maybe two months ago I was playing a soccer game, I had gone for a ball and got possession of it. I maybe got two or maybe even one tap on the ball. In less than a second later I was fore armed and went down for over thirty minutes. The ref had kept the ball in play and maybe after two minutes of lying on the ground my coach ran onto the field. They had moved me off the field sometime later and an ambulance came in that time, time passed and I was finally at the hospital.

It has been a while and I'm still working through the whole thing. My team isn't doing well this year. We have won against the two worst teams in the bracket; but we've lost to the teams we should've beat. I don't know what it is, I don't get why my team is going through a slump; but I feel like it's never going to end. I'm getting hit every game because I have to be the one to cut off the angle or I am in the wrong spot or become a target. I also feel useless on my team. I can't do anything, except kick the ball. Everything just seems to crumble apart and I don't get it.

You may be good at it now, but that can easily be eclipsed, That's what my mom told me. I have to work if I want to perform well. My mom said I'm thinking too much and that I need to work at it on my own time. I have a plan to get together with one of my friends and work on it. We plan to work on dribbling, headers, break aways, and kicks. I plan to show my coach that I can do these things, then that feeling comes back. I can't do it, it won't be good enough, you need speed. When I try to push these to the back of my head it shows. My mom and dad are trying to help me through what has happened in the past two months, that's why they have created these options.

In conclusion, I know that everyone around me supports me and tries to make me a better. Those things that are holding me back I need to get control of a make them fade away. I need to put forth the effort in making myself a better player. I've got to conquer those fears and make them a thing of the past. I know I've got people behind me that will help me and make me push through. Even if I am going through a slump or a concussion. Maybe even by doing this my team will push through with me and win a couple more games. You never know, but I have a strong feeling that my team will be strong and will push with me.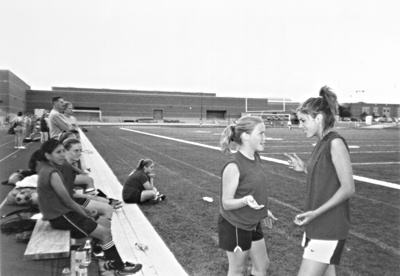 © Katlyn B., Highland Village, TX