What I Carry
November 10, 2016
I stare out the window lost in a daze. My eyes fix on the oak tree in the distance; I admire how it stands strong and tall through all the seasons, something I never could do; I carry around Anxiety with me everywhere I go. As my mind drifts to other thoughts, the details of the tree grow in and out of focus. I sit alone in the silence, allowing the darkness to consume me. That's when I feel her tender touch rest on my shoulder. Her visit doesn't surprise me; she always attacks when I am alone and vulnerable. I try to force her away, but this time I am too weak. I let Anxiety take control of my mind once again.

Her entire being is that of a beautiful nightmare: a tall, frail shadow, looming over me wherever I go. Her face is freckled with scars and memories; it displays no sign of emotion. I examine her eyes and become lost in their captivating, black abyss; their color reflects her inside. They bore into my own eyes, never looking away. Her lips are unattractively dry and cracking at the corners. Her presence is always searching me for a moment of weakness, or lack thereof.

Her dainty, yet strong hands trace the frame of my face. Their touch is as cold as ice and cause me to become paralyzed. Her keen fingernails claw their way into my thoughts and scratch away at every mistake I've ever made. She withdraws my insecurities effortlessly from the back of my mind and pitches them around for her own pleasure. She teases me with her mind games and begins to tear me apart piece by piece. She crams her fists into my throat, causing me to gasp for air. Her hands find their way into my stomach, wringing my insides out like a wet dishrag. I cry out in agony as she slowly shreds away any sense of self confidence I have. Anxiety clings to me like a scared child to it's mother, never letting me go. I try to break free of her clutch, but it only grows stronger. All the emotions I carry around with her become pervasive. Anxiety summons me back into her shadow and I melt around her. Embraced in her chilly arms, she spoon-feeds me all of her unpalatable lies and forces me to swallow.

She dwells in the vast darkness of my mind. She likes to believe she is the queen, ordering all my thoughts to carry out her commands, but a king of greater strength already rules this kingdom. What she brings with darkness, He diminishes with light. God is the only King who has power here. Tall, golden gates are constructed around my mind to keep her from destructing my mind any longer. The worries seep through its cracks, but my all-powerful king dispatches them back to the darkness where they belong.

This is the last battle we will fight. God is my companion and reminds me He has already defeated her. I regurgitate her disgusting lies, tear her grip from my thoughts, and give my Anxiety up to Him. Isaiah 41:10 echoes through my mind as I let her go. "Fear not, for I am with you; do not be dismayed, for I am your God; I will strengthen you, I will help you, I will uphold you with my righteous hand." My insecurities are filled with securities in Jesus, my only comfort. I feel my anxiety wither away into the presence of my loving Father.

As the night draws to an end, I am left alone to pick up the shattered pieces of confidence around me, but this time I have the help of my loving Father. Once in awhile, Anxiety taps me on the shoulder as if to say, "Don't forget about me! I'm still here!", but I know better than to let her consume me again. Because of the strength I have through Jesus, I am able to put her in His hands. He has set me free.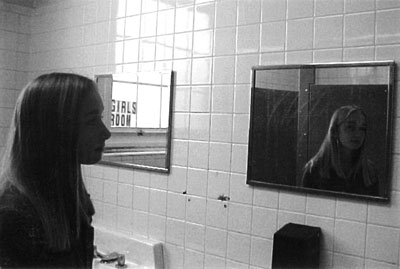 © Jill H., Pompton Plains, NJ