What Stories Make Me Feel
October 14, 2016
Stories are a way that humans communicate, express themselves and show their feelings for the many issues in the world. For me, as a reader, stories are an escape from the real world and an adventure to another place that might or might not exist. The way that authors can so artfully weave tales onto paper fascinates me.
One of my favorite authors is named Sarah J. Maas. She has not written a book yet that I do not like. Her stories about Aelin Galathynius and Feyre entice me and inspire me to be brave and face my problems head on. The legends of the Fae in those books make me think about what darkness truly is.
For example, I am currently reading Sarah's newest book called The Empire of Storms. Although I don't get the time I would like to read it, I make sure to pull it out on the long train and bus rides home. Instead of sitting on an uncomfortable bus seat, I sit with Aelin and her Fae prince, Rowan, as they plan to save the world from utter darkness and destruction. Instead of staring out the green tinted windows of the train, I stare out at the beauty of Velaris, Feyre's new home after the evil queen Amarantha's destruction.
The characters in the books I read and love are my brothers and sisters. I aspire to be like them: brave, selfless and kind. They help me to stay out of the darkness and not become a spoiled brat because of the privileges I have. 
Many people have said that language is power. Many more people will say it because it is a fact that has been proven time and time again. One of my favorite English teachers told me that a writer might not be immortal but their words are. They live on forever with their voices heard and their greatness never forgotten.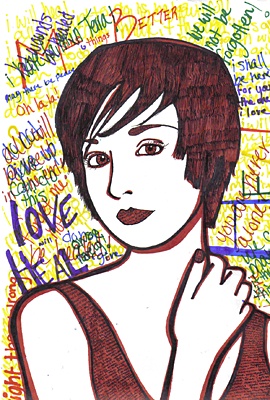 © Sara D., Aiken, SC