Seconds
October 7, 2016
Have you ever had something happen that completely rocked your world? This thing just tossed everything you knew and loved just thrown upside down.This happened to me. I was in a horrific accident that threw my "stable" world completely upside down. People take life for granted should know that this is not how you're supposed to live your live! you're supposed to live life to the fullest every second, and I hope my story about how my world change in two seconds will help you appreciate every second you get.

Christmas! It is the most wonderful time of the year, with all the presents, amazing food and family you haven't seen in a year…….but this year was different.

My mind was still drowsy from being asleep and immediately racing through everything that had happened like I was in a movie. I was laying on the window of my side of the car, which was in the snow while my sister was hanging up in the air stuck in her seat belt.

"It's gonna blow up!!!" my still asleep mind screamed. Thoughts went through my mind about the trip up to Canada to see my brother and his family but this was not how it was supposed to turn out.

Last year in 2015 my parents decided that going to Canada over Christmas was a great idea. So we packed up everything we needed, Christmas presents food and warm blankets. My other siblings decided to come with us. My siblings who came included my youngest older sister Staci who is 16 years older than me, her husband Dan and their two kids Charli and Anna, along with my eldest sister Jessi. They all rode together in a van which we fondly named "The Behind Car". Our white van which drove ahead with my sister Lexi and both my parents and me was named ¨The Over the Hill Van" and thus we were our merry way to Canada for a Christmas we would never forget.
The first day of our long road trip was a blast, Lexi and I watched movies in the car including Elf since it was Christmas time. We stopped for what we didn't know was the last lunch we would share as a well oiled and collected family. I slept a lot on that trip, after lunch I promptly fell asleep as we drove through the border between America and Canada.

A couple hours in my deep slumber, I felt a strange swerve, like a roller coaster as it swerved to the side unexpectedly, which was a strange feeling to have while in a car. But even stranger was when I felt a swerve so big it made my eyes flash open in fright, upon opening my eyes I saw trees and snow ahead and had a strange sensation of flying. My Mom's, my sister's and my screams filled the air as the passenger side of the car hit down hard on the snow covered earth, we flew for a split second then hit again and rolled three more times, until the passenger side of the car was sticking up in the air.

So even though I heard my sister saying she was stuck and crying for help as she hung sideways in the car. I struggled to unbuckled my seatbelt and to crawl over the seats, glass and other things that had been strewn through the car. But I eventually climbed out the the broken sunroof as the setting sun reflecting on the snow greeted me. I looked at it horrified as I wondered to myself, "What just happened?"

I turned and examined the car: it was crushed. The windows were broken and the glass spread all over everywhere in the ankle deep snow. I didn't notice how cold I was, wearing only short sleeves, sweats, and socks in the snow because the shock of the accident kept me occupied.

I heard screaming somewhere and walked around the back of the car the corner of my sleepy eye seeing a stranger pulling Lexi out and carrying her franticly. I looked up the 15-20ft cliff we had just rolled off and saw my sister Staci wailing at the top. It didn't cross my mind at the time that she had watched her family go off a cliff. It also didn't occur to me that she didn't know if we were dead or alive. As scared and shocked tears rolled down my cheeks I screamed to her

"It's okay! It's okay! We're okay!"

I noticed out of my tear filled eyes that my brother-in-law was moving down the embankment and coming my way. Once he got to me his arms gently pushed me back behind a tree.

"If another car comes off stay back here so you're safe" Dan ordered me.

He then went to help and inspect the scene like a true fire-medic he is. I looked over and saw the stranger holding my sister and I moved to her laying out my precious green blanket for her to lay on. I thought she was unconscious when I looked at her face but my assumption was proven wrong when a pale face gave me a small smile.

My dad finally got my Mom out of the car, she was a gruesome sight, so I looked away. I didn't want that to be a memory I keep, but to this day it's still etched into my mind.

Strangers were everywhere, helping and just standing around trying to figure out what to do. I began to shake because of the cold air and the fact that I couldn't find my shoes made it worse. By the time my shoes were located my feet were caked in snow, so after brushing off all of the snow I was able to fit my swollen numb feet into my mom's muck boots. A nice man offered me gloves and his coat as I shivered. After finding my coat, he got his back but the gloves I kept.

As I surveyed the scene something changed before my eyes. A truck drove up from the property next to where the crash was. A woman, her husband their son and his girlfriend got out and immediately began helping. The woman looked over the scene then saw me holding back my tears and trying to help with anything to distract my mind from what was actually happening. The woman was wearing a big fluffy coat with what looked like a the tail of a fox for a collar. Her hair was dirty blond and she sadly looked around. She walked to me and pulled me into a loving embrace. This motion sent me to tears.

"Its alright, its gonna be okay, What's your name dear?"

"Graci" I promptly responded still sobbing.

"Here let me pray for you" She prayed for me, a complete stranger, who she had never met before in her life, but she was willing to go out of her way and hug and care for a stranger. This is a prime example of someone who lives in the second not the future.

Over the next two weeks my family grew together like a tight knit machine, of tears and hope. As my mom progressed in her healing she eventually joined us at my brothers house coming from the hospital on Christmas day. Because of this we moved our Christmas Eve to the 25th and had our Christmas on the 26th. It was the most memorable and life changing Christmas I have ever had. It was a awakening to look at every second as an opportunity, as something I was never going to get back, ever. Period!

Anyone can see this story and see the heartbreak and life changing a second can be, some choose to see it and change whereas others choose to just ignore it. I challenge you to see that a second, not matter how small, is a precious gem you will never get back. In my story my family went through a horrific life changing moment, a moment when everything changed. In that moment, I could have lost my mom and sister and the last thing I would have ever said to them, would be nothing, because I was asleep. Don't fall asleep! Not asleep as in sleeping, but as in during life: don't fall asleep! Don't let life just slip through your fingers. Enjoy it! Live life to the fullest because you never know when one second can change you life.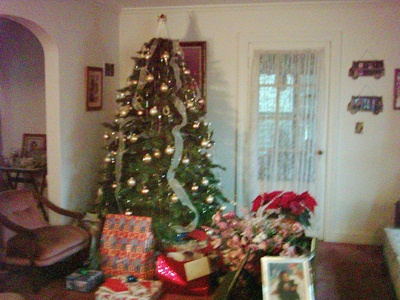 © Alexandria W., Hamden, CT