To Be a Princess
MAG
October 5, 2016
My little cousin, Anika, and I sat on my driveway, watching our hometown's annual parade. As the Festival Queen passed, she looked up at me and asked, "Is she a princess?"
I nodded.
"Could you be a princess?"
I looked at her and paused: I was of the opinion that beauty pageants were forums for beautiful, blonde women to ramble on about world hunger. But Anika's hopeful eyes made me want to challenge that assumption.
So, I mailed my application the day it came out and begged my dad to hire me so I could afford a dress and singing lessons. For months I practiced answering questions about racial unity and education, walking confidently and talking eloquently. On pageant day, each girl was primped and perfect.
During the pageant, I smiled until my cheeks hurt and belted my song with pride. The thought, I could be queen, fueled me. I could tell Anika that people like us could wear a crown; people like us could be anything.
But I wasn't chosen to be queen. A beautiful blonde girl was, and soon, we rode in the parade, the Queen at the top of the float, and me on the bottom, smiling, feet dangling over the edge. Afterward, Anika ran to me.
I'm sorry I couldn't prove them wrong. I'm sorry I couldn't, I thought.
But Anika ran up to be afterwards and threw her arms around me, looked into my brown eyes, framed by my brown skin and black hair, and said, "Can I be a princess, like you?"
I said the first thing that popped into my head: "You already are."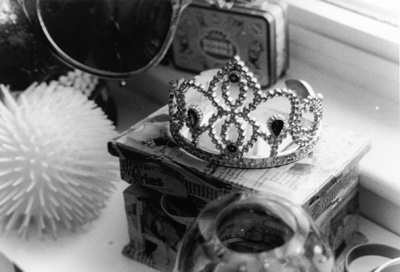 © Bayta R., Beverly, MA