What Makes Me Extraordinary
October 1, 2016
I wholeheartedly believe that everyone has something that makes them special. Whether it's traditional like painting, basketball, or singing, or untraditional like archery, contortion, or clothes making. Every person has something that's unique to them. But for a while I thought I was the exception to my belief. I mean high school has a way of making you feel so ordinary. I saw my friends with their talents and unique quirks, and I felt left out because I didn't recognize anything amazing in me. I would look in my mirror and wonder: What makes me different from everybody else? What made me extraordinary?
And don't think I didn't try to find it because boy did I try. First it was art, and that was a complete and utter disaster. I think I gave Van Gough a heart attack from beyond the grave with my lack of talent. Then there was sports which wasn't terrible. I mean I won't get pick last for teams in gym, but you won't read about or see me on ESPN anytime soon. Finally it was music and that went pretty well. I mean I don't sound like Rihanna or Adele, but at the same time my voice is pretty nice. However it didn't feel right, like it didn't give me internal peace. So music wasn't my calling either.
So I'm in my room, listening to Taylor Swift wondering if maybe my normality is just here to stay. So I grabbed my journal, and started writing about my impending doom of being a normal teenager. I'm flipping through it and I see all my poems, lyrics, and thoughts that I wrote down whenever inspiration struck me. I realized that maybe I wasn't as ordinary as I thought. So I called my best friend and told her all about my escapade and misadventures. She laughed and told me that I'm a writer. Then BAM, it hit me like a ball to the face: My talent, my gift was writing. Whenever I write something, I feel this calming presence and I feel great about myself. Now wheneve I'm angry or overwhelmed, I grab a pencil and I go at it. My words, my writing makes me extraordinary.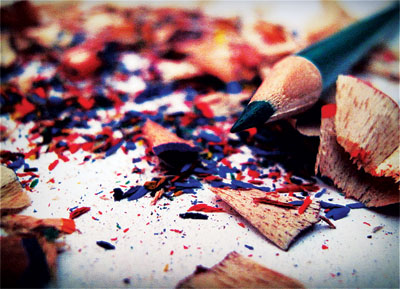 © Rosalee M., Lowell, MA