Nothing Else
September 27, 2016
I am certain that every child's secret wish is to have been born with a talent. I am certain of this because I certainly remember the tales of sweet-voiced princesses I read about at age five, the musicals I watched at age six, and the brilliant-minded underdog I rooted for in all my childhood. There was no question about it, children wanted to be the exceptionally different, and I know I wanted nothing more than to be talented. I begin to believe differently.

In choosing my electives coming out of elementary school, I remember I had chosen to mark the small box next to Band because of a visit we took to the middle schools where my fifth grade class watched them play. I knew nothing of music, so I was no judge to believe that the band sounded particularly good, but somehow I reveled in what happy people looked like when I watched the band perform for us. I reveled in what genuinity looked like when I watched them talk about their love for it. I reveled in, most of all, what I wanted to look like, which was what I perceived as talented. Later, I would come to know my own ignorance.

Looking back, this decision should have shook the Earth, placed a man on Mars, and implemented world peace for how much it changed me. But at the time, it just felt like the marking of a box printed on cardstock, deciding the time I spent for an hour and a half each day of my formative middle school years. The Earth barely blinked.
When I had begun in the following semester at the middle school, I immediately believed the clarinet was the single most wonderful thing. I played it constantly, I got encouragements and compliments from my teachers, I truly thought I found it: my long-awaited talent. But for some reason, I felt I did not find a love for Band through this "talent" at all. I found that what I was truly pining for was something to be fulfilled through more than the simple act of being able to do something well.

My love for Band, I realized by my second year of middle school, actually branched off of conversations of performances and reminiscent recants about times I've messed up. In a band hall, good laughs were always born out of moments of failure, and congratulations were real even when someone didn't place the chair they wanted. I began to see love and real life picturesque togetherness in the crevices of my downfalls, in the cracks of my undoings. I began to see beauty not in supposed talent, but in growing.

And growing meant more than the expansion of musical horizons, it meant looking at yourself and asking yourself what could be better. It meant taking these things you saw and truly working hard to fix them. Us band kids, we learn soon after marking the small box next to Band that being early is on time and being on time is late. We learn that perfect practice makes perfect, that good is the enemy of great. We learn that time matters, and not just in terms of using a metronome, but in using every second we have to take all opportunities for greatness. We learn to knock our own socks off after every performance not with how good we believed it sounded, but with how much we grew. Growing meant finding happiness in growing.

Eventually, it was time for me to launch myself into freshman year and the school band was knocking on my front door.

Upon welcoming this whole new world in, this band taught me what it was like to be among the people I looked up to since the moment I saw them perform as middle schoolers years before. I grew from the people who looked like superheroes in beautiful marching uniforms, the people who consoled my feelings of being dissatisfied with myself, and the people who remind me everyday of why my past secret childhood wish for talent is so incredibly irrelevant—the pre-growth product of immaturity. Who needs that, when you can have a field for marching, an instrument for playing, and great people for witnessing? Nothing. I need nothing else.

I am now in my fifth year deep into this passion of mine, and for our marching show this year, we tackle the subject of fate and destiny. We tackle what we cannot take into our own hands, what the stars align for. The stars do not align for something as trivial as a gift or talent bestowed on me. The stars align for moments of my happiness, of my passion. And since the beginning of my timeline—marked by a check in a cardstock box, to the work in progress that is myself—they align to give me a chance at something as incredible as Band.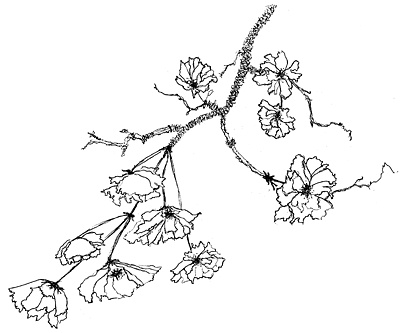 © Marybeth L., Hamilton, NY