I Thank You, Veterans
September 28, 2016
Memorial Day to me is about remembering the veterans who have died. I do this by going to a parade Monday morning and taking a moment out of my day to reflect on what the deceased did for me by protecting the red white and blue.
The reason why I have the freedom to be on the lake and fish is because there were men in foxholes with bullets whizzing over their heads with 40 pounds of gear on their back in 120 degree heat. Sadly, some men and women paid the ultimate sacrifice to keep this land of lakes, mountains, and fields free. I pay my respects for these men and women and thank them for what they did for me and my country.
On Memorial Day, I make use of the weekend. I enjoy the 75 and sunny weather. I go fishing from the freshly waxed boat. Or I go swimming in the Shattuck's crystal clear pool with glassy water. Country music plays in the background too quiet to hear. I drink Pepsi that is as cold as melted snow from the northwoods. I owe this weekend to the men and women that died protecting America.
Both of my grandpas were a part of the Army and I thank the men and women who died getting them home. My grandpas would not be here today without those brave souls that gave up their lives in the name of freedom. My grandpa on my mom's side was responsible for driving a half track in the Army (although he never got deployed to any major battles). My grandpa on my dad's side was deployed. When he got to Germany, he was put on special assignment to play football to entertain the troops. Neither one had a major risk of dying and ended up coming home unharmed. I know if history took a different path, they wouldn't be here so I thank the men and women who had a hand in making history what it is today. I thank you, veterans.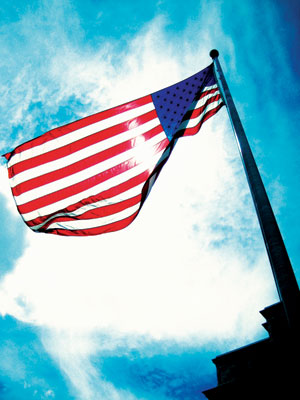 © Seita O., Palatine, IL