Everybody Say, Amen
August 13, 2016
I have no religion.

After reading my first line, I assume that many of you have already judged my entire life. Some even predict where my soul will go when I die. Basically, they already made a storyline based on my first sentence. Congratulations!

But hey, I think there's still few of you who don't care and those of you who bothered to ask themselves "why?" or "what happened?"

I was a church girl who's afraid to go out and be with other people. Afraid that I might lost on the right track, I detached myself from the worldliness and live in a cave where words comforted me and assured me of a good life.

But as I began to enter the stage of maturity, I decided to widen my horizon because I know life is more than what they teach us in church.

Restricting me from the things that I should've had experienced made me so innocent and naïve. I was unprepared when I embraced the world that I am not used to. It broke me but I learned.

This world slapped me with reality. I met people with different lifestyle and perspective in life. I got a chance to listen on other people's stories and learn from them.

I also had a fair share of good and bad experiences with the people I met along the way. No regrets because at the end of the day, I know I grabbed the opportunity to know things that I haven't known yet.

As I allow myself to grow in this world, most of the things I believed had changed. I'm living my life now in a different perspective.

I believe that this world we live in is not as sweet nor smooth as we were told that it is. And one of the great things that we should do to survive is to help ourselves surpass the hurdles that this life will throw upon us through knowing the world more and be with different people in order to understand things further.

One must not confine himself in one place just because someone told him so.

Before you bombard me with Bible verses or whatever it is in your mind, do you have time to at least listen to my story with an OPEN MIND?

I don't mean that I'll tell you the whole tale on how a girl loses her religion. My point here is, take time to understand and respect an individual.

Oftentimes, because of our  eagerness to save a soul or to show to others the truth of existence, we're skipping the part of getting to know of who we are talking to.

Stop for a moment and listen first before you tell a sinner to be a saint or convince a person to change his or her belief in life.
On the other hand, some people question the validity of what the other party believes. There's nothing wrong with that, actually it's a good thing to explore things that are not yet clear. But let us not make the situation end up with an argumentum ad hominem or mockery of each other's belief.

It is okay to share with others what we believe but I don't think it's proper to shove it to the throat of those who refuse to take it. Understand that we grew up in a different environment, experienced different comedies and tragedies, and fought different battles.

Let us neither mock nor laugh nor pity each other because of differences in our beliefs. You don't expect seven billion people to have the same belief as yours, right?

Don't let our differences hinder us to do good things to humanity. And may we learn to not lose our respect to others just because they don't hold the same principle as ours.

As I continue my journey with different people, I realized that most of the time, giving others genuine understanding and respect are more than enough and highly appreciated.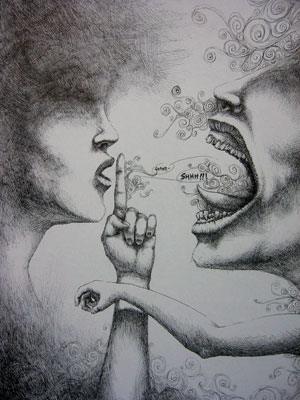 © Andrew M., Apple Valley, MN