The End Suite of Destiny
July 13, 2016
The End Suite of Destiny:
An illustration essay
In our ever-changing, individualistic society finding a place to belong is like trying to find a drop of water as you wander the desert. As we set out in our journeys to belong, some of us are fortunate enough to find a group of friends who can make us feel like we belong. As Singer James Morrison once said, "A friend is someone who gives you total freedom to be yourself." And finding a group of people who allow us to do just that is a wonderful anomaly. Once you find yourself in a friend group, the fear of facing life alone subsides. As illustrated in my own friend group, it forms unexpectedly and organically, one cannot pin point the exact moment of its genesis. A true friend group is dynamic, it is made up of uniquely different people who manage to not only complement one another, but also challenge each other to see the world in ways that are unimaginably different.
My friend group was formed in my freshman year of college, the universe's scheme to bring us together was set into motion in the end suite of my dorm. On move in day, I walked into the common area that my room and three others surrounded, called the end suite. Little did I know that my friends, whom I had not yet met, and I would spend countless nights sprawled along the two couches and the arm chair that made up the room, as the semester began and our freshman class went through orientation, I felt like a tourist being herded through a world that was not yet mine. Fortunately, my roommate, Pati, and I became friends rather quickly. After classes, we found ourselves monopolizing the table of the end suite with our books as we studied. When our dirty laundry provided the same coverage as a carpet, we found ourselves jamming out to a colorful spectrum of music as we attempted to clean up. Simultaneously, we became friends with our neighbor, Abbi, who also spent her time in the end suite. One of my fist memories with Abbi is of us prancing around the dorm and laughing hysterically as we took pictures with a paper cut-out of Chuck Norris. Our friendship would eventually lead us into unexpected hiking trips through the uncharted areas of campus and midnight waffle house runs. Abbi's sister, Lexi, also became a regular inhabitant of the end suite. With her we received refreshing sarcastic humor and amazing paper editing skills. My favorite early conversations with Lexi were those that ended on a note of world domination, or in declaring ourselves supreme rulers of the moon and Antarctica. Lexi's roommate, Katie, eventually found her way to the end suite. Playing "Just Dance" with her on Friday nights was like competing against a professional. Although my favorite conversations with her are those in which she plays the part of loving therapist. The five us, Pati, Abbi, Lexi, Katie, and I would ride to dinner together and eventually eat together.
At this point our group was far complete. A couple of weeks into the semester at a campus retreat, I met Wesley, who Abbi Lexi and Katie already knew. After Princess Bride reenactments and the misuse of hockey sticks as swords, Wesley found his way to the end suite every Friday night where he and Pati would attempt to reenact the finale of Dirty Dancing and he would pose profound philosophical questions. When second semester came around, I met Johnathan for the millionth time at a pancake party. This time, he would finally remember my name. He too, would join us in our long hours of "Just Dance" sessions on Friday nights, adding his own break dancing in to the mix. As he did so, Johnathan made sure to crack as many puns as he saw fit which to this day, I greatly appreciate. Last, but certainly not least, through dinners at the cafeteria we all got to know Alan. His friendship would eventually bring countless three-hour dinners where he would read off Bible pick-up lines and together we would find ourselves in spontaneous middle-of-the-night swamp adventures or jamming out to Boulevard of Broken Dreams. Most importantly, he too would join us for Friday nights in the legendary end suite.
We all came together organically and unexpectedly. We gave each other a place to belong and the chance to be ourselves, each one of them slowly tore down my walls that displayed a painted smiles, but were only meant for strangers.  Our situation is one of those anomalies that takes place when the right individuals find each other in a sea of people. We started to view ourselves as a family and I believe we each found a piece of our missing selves in each other. With a streak of radical honesty, I cannot help but point out that you can't pick your family. We, however choose to be together and actively pursue one another. Our honesty usually surpasses that of some families, we often hear the phrase "love is blind" and while family love and romantic love sometimes is, I believe the love of a friendship can see as sharply as a golden eagle's preying eyes and combines itself with bottomless honesty.
This brief retelling of how our paths came to cross can in no way encapsulate the essence of our group. We represent five different countries and six different states. each one of us is uniquely different, and we view the world in our own way. However, through our conversations, we have learned that we complement each other enough to be able to openly share our differences. Each one of them helps me view situations with a new perspectives, which helps me deal with anything I might be struggling with. Spanish Author, Jaime Torres, once said "Each mind is a world unto itself" in which case, I am forever grateful to have friends that share their worlds with me, while also challenging me to better mine.
Getting to meet each one of my friends has been a rare and treasured opportunity. From every Jam out session, to every chuck Norris photoshoot to the priceless world domination schemes--our friendship is a genuine and honest one. These kinds of friendships are the kind that catch a person off guard: they slowly tear down our barriers and strip our filters, while also teaching us when to have one. We taught each other what it felt like to belong. Our dynamic personalities were brought together in a way that was swift and unforeseen. Our friendship had no definite beginning then, how could it possibly have an end?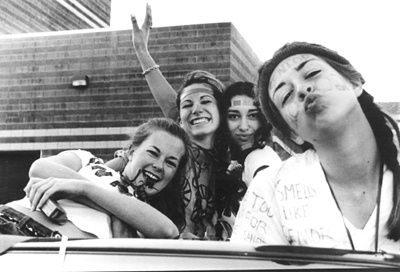 © Sara B., Marblehead, MA