Waiting for the Bell
MAG
May 23, 2016
Feet shaking and body squirming. Eyes scanning the clock and hands tightly holding each other. My body is tense, clutched in the persistent and dreadful embrace of the desk and chair.
It is second period and I am existing in a brightly colored room of forced, tacky optimism, yet living in a world where going to school means anticipating lunch. I would say that I am uncomfortable, but that is like surrendering to the excruciating pain and instead giving it a compliment. The first five minutes of this class, as well as the last five, would have to be the most infuriating and body-aching suffering that a privileged person, ungrateful for the fact he or she even has the opportunity to get an education, will ever have to endure.
The first five minutes are spent thinking about nothing and everything. I check the clock every 15 seconds to make sure that a holy miracle did not make 50 minutes go by in 30 seconds. I make conversation with the surrounding students, and since my body and mind never cooperate well in the morning, I begin to say things that make me regret my entire existence.
In that moment all I want is to be tangled in my blankets in a dark, quiet room where vulgar decorations that poorly represent Chinese culture and artwork by artistically untalented children are non-existent. I am on the edge of a cliff called Trying, and I am deadly close to dropping into the deep, quiet hole called Giving Up.
After 45 minutes, also known as 45 years, I look up at the clock and see that there are five minutes left until I can leave this room that blocks me from achieving my actually significant aspirations and spectacular life. Those five minutes are the mile mark right before the pot of gold at the end of this colorless rainbow that I have chased with every ounce of trying that I have left in my youth.
During this time, the discomfort and lethargy that has accumulated in my bones and organs has turned to fury. I am angry at the teacher's non-stop, power-hungry voice. I am angry at myself for being an ungrateful, ignorant, spoiled brat who cannot embrace the education that generations of women before me have died for.
This inner turmoil of rage, frustration, self-reflection, and pity is finally refreshingly released as a burst of painful patience is turned into a freedom of glory and infinite greatness. I feel so independent and ready to live, until the teacher says, "The bell doesn't dismiss you. I do."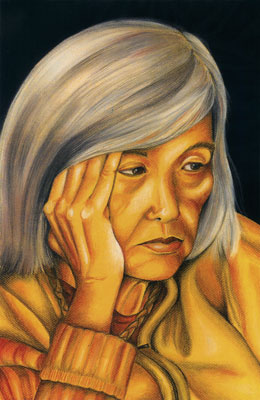 © Kaitlin C., Forest Hills, NY