Getting Her Uncle Back
April 19, 2016
May 2017

She's walking up to him, she is severely nervous. Her hands shaking and not being able to breath she looks up at him and sees that he is smiling, all she can do is smile back. This will be the first time in years that they have spoken.

When she finally reaches him she see's that he is crying, they hug each other and start walking. There are so many questions she wants to ask him, but she can't seem to get a single word out. Sensing that she is trying to figure out what to say he's the first one to speak, but before he does he turns to face her. He only says two words and she bursts into tears.

November 2015

She can't sleep again, when she looks at the clock it says 4 A.M. two hours before she has to get up. She tries and fails to go back asleep, yet another night lost to thinking about him and asking questions she knows she won't get answers to. The big question is… is he worth it? Should she ask herself questions she will never get the answers to? Knowing that she won't be getting any sleep, she gets up and starts her day.

When she is getting ready for school, all of her questions are still running through her head. Like where is he? Is he ok? Why won't he talk to us? What did we do? Did we do anything in the first place? Even when she puts earbuds in while waiting for the bus, she gets no answers to her questions. Then her questions change from why? To I wonder. Like wondering if he will call or text or something on her birthday.

The birthday that is so very close, only a week away, but she doubts he'll come. It has been 5 years since he has talked to them. Why come out now? What's so different about this birthday? It's her 16th birthday, her sweet 16, an age when she needs her family more than ever. Yet he most likely won't bother to show up, not even for her sweet 16.

November 2016
For the last 6 years she would lay awake at night asking herself, What are the chances he will show up in the morning? The probability of that happening, which she knows, is slim to none. Deep down though she can't help to hope, hope that he comes to his senses and realizes that they need him… she needs him. There are a lot of things that have happened since he left.

She wants to be able to talk to him about her future plans. Tell him what she wants to do, where she wants to go, and so on. Like how she wants to go into the FBI, how she doesn't quite know where she wants to go yet but is still looking. She wants to tell him that she has to have three years of experience and to get that she's going to become a cop. She doesn't yet know where she will serve those three years but she knows that she has to do it.

Her 17th birthday is also coming up, she would like to spend it with ALL of her family members. Being since it's the last one for awhile that they will be able to spend together. The last one for probably 4 or more years since she plans on going to college and doing her 3 years of experience in Florida or somewhere else down south. She already has it planned out and it won't be able to happen if he's not here. Which in some moments really makes her mad because she shouldn't have to worry if a family member will be or won't be there. But since he hasn't been here for 6 years she does.

April 2017
There's a month until she graduates, a month until she is no longer a high school student, and she is getting nervous. She can't believe that graduation is only a month away she knows that her aunt is coming from Wisconsin, but she is wondering if he will show up as well. Knowing that he probably won't since he didn't even bother to show up for her birthday. She instantly tries to put the bad thinking out of her mind and focus on the good I mean come on it's her senior year.

After all he is her uncle, he should come but it's been 6 years, 6 years since he has talked to them or came to see them. She has been able to cope with the fact that he hasn't been here for this long, so why would it bother her if he doesn't show up now? The answer is that she wants him here for her graduation, she wants him to see her move from high school to college.

May 2017

It's graduation day, she is extremely excited. She has been waiting for this day since freshman year, now that it's finally here she is thrilled after today she will be on her way to her dream. Her dream of being an FBI Special Agent.

The ceremony is done, and she is by her family and friends. When she spots someone, someone in the distance, someone she hasn't seen for 6 years. She starts walking towards them and everybody wonders where she is going.

***

He told her he was sorry, that's all it took and she started to cry. They started walking again, slowly making their way to the school. While they are walking they talk, she catches him up on everything that is going on. Like her dreams, her plans, what high school was like, the friends she has made, people she has lost and so on. He tells her what his life has been like. Some parts they laugh and others they cry.

When they reach everyone else, he is greeted with hugs. Everyone is happy to see him and they ask him questions. Like where was he? Why did he leave? What did we do to make him mad? Did we make mad in the first place? And many more. Awhile later they all go out to eat and catch up on everything like what everyone has been up too and so much more. They filled the night with stories both happy and sad. At that moment she realizes that she just became the happiest girl out there, she finally got her Uncle Jim back.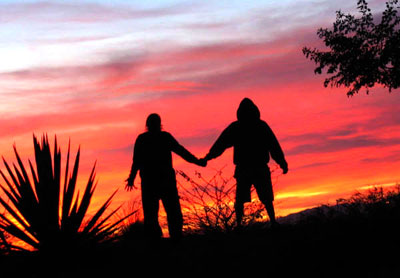 © Rosanna S., Phoenix, AZ