Young
April 24, 2016
My best friend graduated from high school last year. She tossed her cap into the air, roared a mighty cheer as it floated back into her hands, and beamed the brightest, most genuine smile that she had ever worn. The moment we dreamed of together, of leaving our younger selves behind in anticipation of the wonders and adventures hidden in the future, transformed from a figment of our imaginations at sleepovers to a sharp reality in the mere seconds it took for her to grab a diploma.
And I was proud of her in those few seconds. I am still proud.
But there is something to be said for our younger selves we hoped to leave behind. Those young girls were courageous; they greeted one another on the first day of dance classes at an empty ballet barre in the front of the room. Their spirits never wavered, despite experiencing withering love in a broken home and unrequited feelings from the boy on the playground. They did not escape exhilaration, but rather screeched until the summer air filled their throats, forcing the rest of the world to open its windows and listen. It was in the hours of yelling and cackling and running around a barren parking lot where they found peace, solace in the belief that a separate pair of best friends more loving and adventurous did not exist.
It was as her black cap, so excitedly tossed away, floated above the hundreds of anxious, thrilled, intimidated, and hopeful graduates, that I realized the adventures my best friend and I shared together as young girls did not have to be tossed away with it. Although her graduating marked a pivotal moment in our transition from thirteen-year-olds, screaming and sprinting through a parking lot, to young adults whose futures could be held in their hands, the times of our past do not need to be forgotten, nor entirely lost. They still linger, and the courageous, loving, and bold spirits of such young girls pave the way for the artists, heroes, and activists my best friend and I are so desperately striving to become. She and I grow older, and older still, but the memories of who we used to be remain close and dear to our hearts as our futures unfold. From greeting one another at an empty ballet barre to embracing in a long hug at graduation, my best friend and I have experienced growing up in each other's care, and I am confident that we will continue to face each triumph, heartache, and adventure left to come with the support of our younger selves, those eager girls whose dreams stretched as far as the seas. They rendered undeniable passions for life, passions we hope to feel burning throughout our bodies as time ticks on.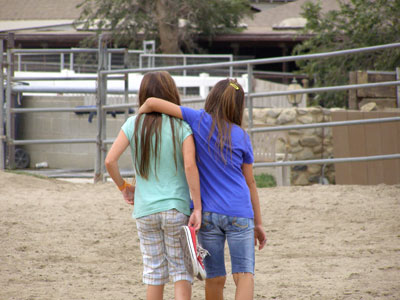 © Austin K., Studio City, CA