Ocean Spray
April 8, 2016
I live in a small, isolated seaside community. Sometimes it seems like air strikes in Syria, or the hunt for suspects after a terror attack in Brussels, are the issues of a different world. Often, as I stand listening to the wooden docks creak rhythmically beneath my heels and thinking about nature's changing seasons, I have trouble believing that the things I hear about are actually happening across the world, or that they matter when they don't directly affect what's around me.
But on a more fundamental level, although it's hard to think of brutality or death and the beloved little street corner by my house at the same time, an isolated village in New England could just as well be one in Cambodia or Iraq. And that means I could almost be one of the teenagers living in that village. Or even in a larger city where there might be hungry children and trash in the street, but that still exists under the same sky and in the same instants of time as my town.

I may not see the effects of events across the world in my surroundings every day, but that doesn't give me a reason not to realize them. And I can do more than that—I can use the strength given to me by the beauty I've known and the truths I've come to believe about humans. I can be one of the ones who blurts out no, I don't care if it's accepted; it's not right to treat people this way. Or no, I don't care if you're powerful; that's not the right way to lead a nation.

I've always been quiet; I'm used to thinking more than talking. I can fall into the habit of not taking the opportunities I have to voice my opinions. But I didn't fully realize until recently just how lucky I am to have these opportunities at all. Reading the autobiography of Malala Yousafzai, for instance, revealed to me just how dangerous it is for a girl in Pakistan to speak out for her rights—Malala almost died through a bullet wound to the head. And watching a documentary called Burma VJ taught me about the courage it took for a journalist to show people the repression that really happened inside a country closed to the rest of the world. As Burma's filmmaker captured the 2007 Saffron Revolution in Burma on camera and smuggled his footage out of the country, he was risking both torture and life imprisonment every day.

People like these two push me to shake off the shyness, the fear that I'll say something wrong, and the suspicion that speaking up doesn't matter because it won't make a difference, and raise my voice. They inspire me to believe that saying something, even if it never changes things, is always better—and not only for the world but for my own freedom and growth.
I know I'm not the only one who feels separated from what's happening across the world, or who wonders if my voice could ever make a difference to it. But I've realized how lucky us Americans are, to be able to have opinions and voice them. And I know that having a voice, taking opportunities, and doing what we can is always better.

We can be aware of what's happening just by stealing time to read, listen to, or watch the news, and by trying to understand opinions from different perspectives and what each one is founded on. Or by watching a documentary, instead of a rerun of that reality show, to catch a glimpse of what life is for ordinary people continents away. We can speak out in small ways by doing it whenever possible to the extent of the democracy we live in—by discussing our opinions with others, by using opportunities online to put in our thoughts, and of course by voting from eighteen onward. And, I think, one of the most important things we can do is believe, both in ourselves and in the fact that a difference can happen.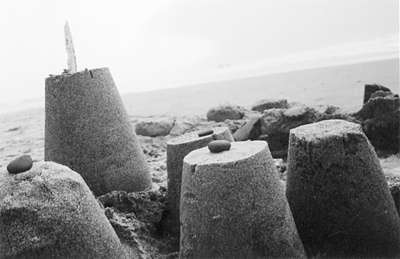 © Lydia D., Seattle, WA