Life of a Dancer
February 28, 2016
The life of a dancer consists of daily practices, tons of money spent on costumes and dance shoes, countless memories, and lifelong friends. Dance is an extremely hard sport that brings many hours of practice and aching muscles. But it also brings a special bond with the people you dance with, the feeling of acomplishment when you finally perfect a certain move, and many nights at the studio doing what you love.
Dance is not only a way to show off your talent, but a way to express your feelings without even saying a word. Whether you're happy, sad, angry, or excited, you can express that through your motions. One of my favorite things to do in my life as a dancer is letting my emotions out when I dance and leaving it all on the dance floor.
I've met my best friend through dance and I've made so many close friends. As any athlete knows, their teammates are so important. As a dancer, it's very important to have teammates that support you and inspire you to be the best you can be every time you're in the studio. Dancing with a group of people is just as important as doing a solo would be because if there isn't a connection between the dancers, it will show during your performance.
Teachers play a huge part in the life of a dancer because they are the ones who are pushing us past our limits to better ourselves, constantly choreogroaphing day and night, and being positive role models in their student's lives. Parents are a major part of dancer's lives too. From paying the expensive dance fee and giving me money for take out on long dance nights, to supporting me and helping me with costume changes and driving me back and forth to the studio.
The life of a dancer is full of passion, and brings amazing opportunities and friends. Dance teaches you that you cannot be handed talent, you have to work for what you want. Always share your love for dance and always dance from your heart.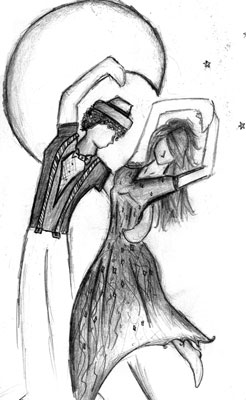 © Megan L., Everson, WA