Family Over Friends
February 4, 2016
Listening to Adam Levine's "Locked Away" has got me thinking about something I've been dwelling on for a while now. A year ago, I got to know my closest friend. Spending time with him everyday during the summer, I told myself that my life was complete, that he would always be there for me, that although we lived 30 minutes away from each other, we were like sister and brother.
My perception of my friend was indeed quite glorified. Although he did genuinely care about me, even telling me that he was my "protector," my friend failed to live up to his words a few months ago. I can't describe the situation, but basically, he wasn't there for me when I needed him the most--for protection.
It seemed like after last summer, when we went back to living our own lives 30 minutes away from each other, the bond between us gradually weakened. And when I hung out with him a few months ago, it was like I didn't even know him. It intrigues me to think how distance can make a person act so differently to someone they knew so well.
I compare it to the situation Levine describes in his song: "If I got locked away, tell me honestly, would you still love me the same?"
In my case, getting "locked away" is the distance separating me and my friend and the "love" is that between a brother and a sister.
From my experiences, I've learned to be careful whom I trust. I've also grown closer to my family, whom I pushed away with certainty for most of my life. I've come to realize that my actual brother would be there for me when I needed him. I've come to realize that no one truly cares about me except for my family. Maybe it's a narrow-minded view, but until I come to believe otherwise, I intend to be cautious with whom I depend on.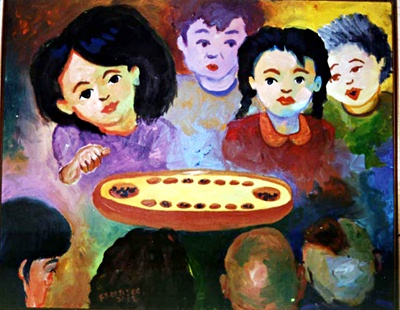 © Fransisca A., Surabaya, Indonesia