Lesson Five: Mild Traffic
MAG
March 31, 2015
The road curves sharply to the left, and the manicured suburban hedges seem to blur and bend with it.
"You're taking it too fast around corners. You want to slow into corners and then accelerate out of them.
"'Kay. Sorry."
The first raindrops hit the windshield like beads from a broken bracelet. They roll around on the glass, momentarily confused.
"Even if it's raining just a little bit during your test, you need to turn on your wipers. They can dock you for that."
"Should I do it now?"
"Can't hurt."
"Okay … wait. Okay. It's the thingy right here, right?"
"I don't know."
"Oh, don't give me that. Just tell me where the wipers are."
"Try some things! Experiment. Learn for yourself."
The Honda's high beams come on.
"No. Okay … okay …."
The windshield wipers slash back and forth at an alarming pace, as if trying to pierce through the glass and batter the vehicle's occupants. A first adjustment only increases the frenzy with which the angry mob wipes its hands over the smudged glass. The second adjustment proves sedative to the madness. A slow, rhythmic pulse of back-and-forth emerges.
"You almost took off someone's mirror just then."
"Jesus, I know, okay."
"You were too close."
"Sorry!"
"Don't take it personally. I was just letting you know."
Pink and gold graffiti on a stop sign advises the street to
Never
STOP
Believing
"I can't see anything from behind the stop line."
"So roll out a little."
"Isn't someone going to come by and hit my front?"
"So only go out a little!"
"How much is a little?"
One of the front tires crunches an acorn.
"A little more."
A blue Volvo, filled with Disney music and in-flight animal crackers, resplendent in all of its soccer-mom glory, whizzes by.
"Okay, go now."
"Now?"
"Well, check, and if you can, go now."
"Okay. Okay, that was too fast through there, wasn't it?"
"What do you think?"
"Oh my gosh, just tell me what you mean for once!"
"You need to be able to decide these things for yourself! I'm not always going to be here to-"
"But, see, I'm never going to learn what's right if you're always so cryptic!"
"If you need me to be clearer, why don't you just ask?"
"Well, I will in the future."
"You can't just assume I'll-"
The deer turns her sleek head but does not otherwise react to our approaching vehicle.
"-always be around to tell you these things."
"Are you honestly complaining that your teenager is not independent enough?"
"That has nothing to do with what I said. You're not listening!"
"Because I'm watching the roa-WHOA!"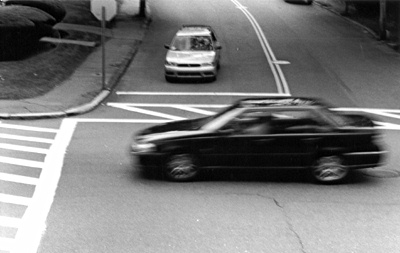 © Ed J., Marblehead, MA