Good-bye
MAG
People think that after a break-up you're supposed to hold your head up and move on. Everyone says you're supposed to forgive and forget. No one ever gave me a chance to forgive her for everything she did to me. No one ever saw how it was when it was just us, when no one was telling us that we would never make it. I was so alone and so lost that I clung to her. After Alex, I just wanted to crawl in a hole and die, but then she came along and everything seemed so much better, so much more meaningful. But she left, like everyone else in my sorry, worthless life. I never even got to say good-bye.

I used to be scared to tell people I had a girlfriend. I thought no one would understand, so I told them she was my best friend. Sometimes I think that if I hadn't kept it such a secret, maybe it all would have turned out different. Maybe she wouldn't have left me. I loved her though, and still do.

Before we became friends, I was lower than a loser. The kids at school always called me a dyke because I didn't have a boyfriend but I didn't particularly care. I knew how stupid middle-school girls were. They need to hurt someone to make themselves feel better. It's sort of funny, though, because I thought that childish stuff would be left behind when I entered high school.

She was this beautiful popular girl that every guy wanted to be with. We ended up friends and hanging out. The girl I had a crush on for almost three years was my best friend. I thought my life was pointless; she was the only one who told me my life was worth living. She actually made me feel like I was still a person.

When I moved that summer, we talked all the time. At the end of August, we started dating. Two weeks later, I came out to my parents. They thought it was her fault, that somehow she had corrupted me and convinced me to become gay. They never considered that I was the one who asked her out. My parents never even gave her a chance. They always said they accepted me and supported my decisions, but they never gave me a chance to be happy with her. I stayed grounded for a while, but eventually they gave up. She and I were determined not to let everyone else ruin us. Well, I was determined.

Even though our parents hated the fact that we were together, we still thought we could make it. They always blamed me for things and made me feel worthless. I'd cry to her on the phone about how I'd never be able to leave the house and she'd promise to save me from this hellhole. Now she's gone, and I don't think I've ever been more lost. I don't understand how someone could come along and make everything so much better, and then take it all away.

I never understood what I did to make her leave me. I felt so stupid the day she told me that it was over. It was the normal stuff that everyone says. "I can't do this anymore," and "It's just not working out," as if she never even loved me. She told me that she didn't know how she felt about me anymore, that she had feelings for someone else.

I hated her at that moment. I wanted to scream. I felt so ashamed and embarrassed that I had actually let someone get close. She called, told me the news, let me go, and that was it. I never even put up a fight. Like a year and seven months didn't matter. Like all the promises she made never mattered. Like I never mattered.

It's been a while now. My mother keeps nagging me to clean my room and give all her stuff back. "Clean yourself up. You can't be depressed forever," she tells me. She doesn't understand. How can I just throw away all that time? How can I forget someone who told me my life was worth living when no one else cared? I can't forget. Memories are all I have left.

It's funny how one minute you feel like you're on top of the world, and the next you're face down in the dirt with someone kicking you in the ribs. When you're happy with someone, you never think it will end. Love has the power to make or break you, and right now I'm definitely broken.

I always go back in my mind, though, and remember the times we were happy, when she didn't have to lie to me about everything she did. Back when cheating was cheating, and not just being with someone one night because we're in different area codes.

I still haven't heard from her, and the weeks are turning into months. What hurts the most is not saying good-bye. No "See you around," no chance to say, "I'll miss you" or "I still love you." I can replay the happy parts, and the sad parts. I can go back to when she told me it was over, and I can say something, and do something. But reality is still there, she's gone. I know I'll probably never see her again, and she'll probably never call. But when she lives in my memories, at least I can say good-bye.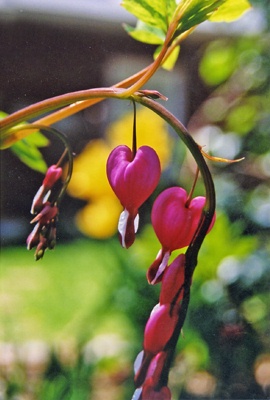 © Sophia E., Wilmington, DE