Just One of the Girls
MAG
Leo Buscaglia once wrote, "Too often we underestimate the power of a touch, a smile, a kind word, a listening ear, an honest compliment, or the smallest act of caring, all of which have the potential to turn a life around." I feel fortunate to have encountered someone who changed my perspective on life. She taught me that people have the power to do anything they put their mind to.

I met DeDe my sophomore year. She was in a class that helps students with a variety of mental and physical disabilities. I had never interacted with them until my field hockey coach, who was also their teacher, asked me to do her a favor and meet DeDe's bus when it dropped her off for the basketball game. And so on that January evening, I strolled out of the gym and into the cold to meet her.

I walked to the back of the bus and saw an electric wheelchair with DeDe in it. Her jet-black hair was pulled into a ponytail, and when she heard me coming, she smiled and said clearly, "What's up?"

The first feature I noticed about DeDe was her smile, which was as vibrant as the sun on a summer day.

"Nothing much," I answered. "I came to pick you up and take you to your first basketball game." She smiled again. After the driver unloaded her wheelchair, we talked the whole way to the gym. "So, are you excited to be out on a Friday night?" I asked.

"Yeah, I'm real excited about coming to the basketball game," she replied enthusiastically.

"Good, I'm glad you were able to come," I smiled. I had never worked with special needs students and didn't know what to expect but DeDe could carry on a full conversation, and I could understand 90% of her words. She sometimes got excited which would cause her to shake, but other than that, she blew me away with her intelligence and confidence.

"Hey, Taylor?" she said softly as we were about to enter the gym.

"Yes?"

"Will you sit with me at the game?" she whispered.

"Of course," I said, a little taken aback. We had only talked for five minutes yet I already felt like she was one of my friends, just one of the girls.

The basketball game was exciting and when it was over, I walked her to the bus with my coach. We said good-bye and I told my coach how neat I thought De was. She had truly inspired me in the span of a basketball game with her determination to be independent and just plain normal.

During the rest of the school year and the summer break De and I saw each other whenever we could. We also talked on the phone and became close friends. When school began again, I discovered DeDe in her big black wheelchair, smiling and waiting for me in the classroom. I laughed and walked over to give her a hug.

"Taylor, will you come to my house some time?" she asked. The next weekend, as I drove to her house, I thought about my life. I can't think of any great accomplishments, yet I have the ability to do anything I want. DeDe is confined to a wheelchair. She doesn't have the mobility and dexterity to play sports like I can; she can't go through a normal day of high school, and she doesn't have a regular social life. But does she seem sad or hurt? No, she has the emotions of any teenage girl. She gets frustrated and sad, but most of the time she's joyful and happy. I never thought that someone with cerebral palsy could be so much like me.

Pulling up to her house, I saw her waiting on the porch. After we talked for a while, her grandmother called me inside to talk.

"You know, Taylor," she said, seriously. "De really thinks a lot of you and I feel so blessed that you have come into her life. It's not a complete day if De doesn't mention you." I felt so touched, so loved. I never would have guessed how much I meant to De. I knew we had bonded, but it wasn't until that moment that I felt loved by someone who had overcome so many obstacles. My eyes began to tear but instead, I walked outside to be with De, who sat on the porch seemingly without a care in the world.

De has probably inspired me more than anyone I have ever known. Not only has she taught me to be determined and appreciative, but she has also shown me that her handicap lies only in her physical abilities, it does not hinder her mental capacities. Each day she proves that it's the little things that count and it doesn't take anything more than love to change a life. She loves me and I love her; she confides in me and I in her. She has not only become a friend to me, but an inspiration. Leo Buscaglia's quote characterizes our relationship, but it doesn't reflect only me lending a smile or a kind word. Instead the quote refers to De touching my life and influencing my actions and choices. Kind of ironic, isn't it?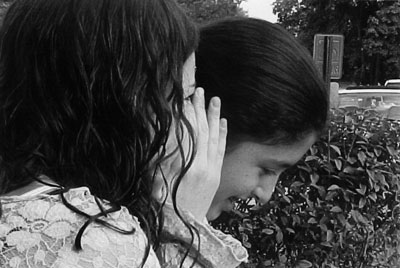 © Jill H., Pompton Plains, NJ