Second Chances
MAG
One Christmas Eve morning, a 17-year-old committed a crime in a major store. His crime was shoplifting. This shoplifter was me, and I was lucky to get a second chance.

I was skinny and tall, in worn-out Nikes and black pants with a black jacket. I wanted to buy some games I'd had my eye on for a while but didn't have enough cash with me. I took the games to the back of the store and snatched them from their box. It seemed so easy that I stole more, never thinking I would get caught.

As I was about to leave, I was stopped by two large men. At this point I knew I had been caught on the store's surveillance cameras and became afraid of what they were going to do to me. The two guys dragged me to the office and plopped me in a chair.

I muttered, "Are you gonna take me to jail?"

The guy dressed in black said, "Well, first we have to see the value of what you stole."

Fear was running through my veins because I knew I had stolen a lot. The items totaled $90. He chuckled.

"Sorry, son, but since you stole more than $50 worth, I have to call the police to take you to jail."

The second he said that I started shaking. I sincerely regretted stealing those items. Then they took a snapshot of me and asked for my name, address, and phone number. Twenty minutes later a police officer appeared. He told me to stand and put my hands behind my back, and he handcuffed me.

The officer said, "I'm going to step out for a while because I have to get a report."

I realized I had a chance to escape but just as I was about to run, common sense told me not to - first of all, I was handcuffed and wouldn't get far and second, running would only make everything worse.

A few minutes later the officer came back and escorted me to his cruiser, warning me, "Son, since you don't have any identification, I hope that all this information is true because if not I'm going to make you pay."

The officer took me to a facility where I was held for a day before my parents bailed me out. I was told to get in line with the other new guys to be fingerprinted and then the officer in charge told us to take off items like earrings, shoelaces, jackets, hats, and anything else.

Then one by one we were forced to walk into a huge cell where we would wait until further notice. The cell smelled like garbage and the walls looked like they were covered with mold. The floor was cold and the seats were broken. The sandwiches tasted like burned tires. I watched the inmates stare at the ground, as silent as if they were dying.

The next day my parents came to get me. I was traumatized that even though they knew about what I'd done, they didn't punish me. The trip home felt like an eternity because there was such an awkward silence.

When we got home my father asked, "What made you steal? If you wanted something, all you had to do was ask."

"I don't know what I was thinking. I just didn't have enough money," I said.

"Well, I don't know why you wanted to steal. You were lucky I had money to bail you out." Before I could say anything he continued, "But I want you to know this: if you ever do something like this again, I will not bail you out."

"Yes, sir, I understand. I will never steal again," I promised.

Then I made my way to my room to go to sleep, knowing that I could still have been in that cold, dirty, diseased, soulless place they call jail. I'm going to keep my promise.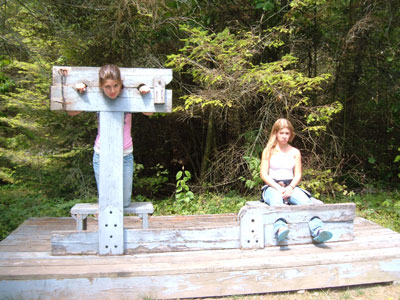 © Hilary L., Rogers City, MI