A Lake...a Treasure.
January 15, 2015
Imagine walking around a lake, every step you take telling a story. It's the story of an old town, now becoming new and renovated.
The Oconomowoc-Fowler Lake Walk, holds meaning to many, and is a beautiful attraction in Downtown Oconomowoc.There's a boardwalk around the lake, creaking as you walk on it's worn planks. The gazebo, picturesque, reminds me of a wedding. I imagine it decorated in flowers, the sun shining off of the lake, looking like it could be on fire.
It's like a trip back to the turn of the century. With old, restored mansions like mini-versions of the gigantic castles in The Great Gatsby. My eyes get lost in the gargoyles at one house, and grow wide at the giant white columns at the old Peck Home.
There's a park…with colossal slides, spinning and swirling to the ground. Closer to the lake, there are large wooden gazebos to hold parties under. Just looking at them, makes you smell the summer barbeques.
Down the hill, a pier reminds me of nighttime. When the stars were out, I walked around the lake. I stood out on the pier and watched the lights of the downtown strip of stores flickering on the lake. The reflections were peaceful like the northern lights, glowing with blaring supremacy.
Fowler Lake Walk tells the story, of old mansions becoming new homes. The lake shining with it's beauty, flowing around every turn of the city with five o's.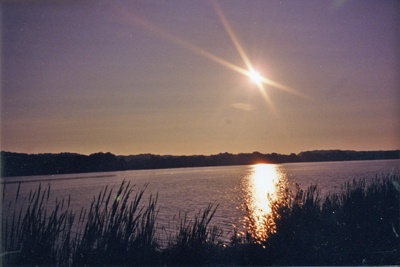 © Gabrielle C., Struthers, OH