Run For Fun
November 1, 2014
It had finally arrived.
The day I had been dreading in six weeks had finally arrived - The League Finals for the 4x400 meters relay teams at Graham Middle School. The thought of racing other 6th graders sickened me to the dark pit of my stomach and I felt like throwing up. It also didn't reassure me that I was running third leg and my whole team (Alison, Triya, and Jenny) was depending on me to catch up with undefeated teams, like Miller and Cupertino, whose team members had personal trainers.
Unlike me, the other middle-schoolers had been trained to run like a mini-Usain Bolt (the fastest sprinter in the world)/mini-Mo Farah (the man who holds the record for the mile- 3 minutes and 47 seconds) right after they mastered walking. They had no trouble running across the bouncy rubber track, overlooking the gigantic mountains. It didn't even concern them that the temperature was above 95 degrees fahrenheit and the concession stand actually charged money for water. They just ignored all the discomforts, the huge crowd, the pressure, and ran for -- as they put it -- "fun"... whereas, I ran because I wanted to improve my running times.
While other kids were talking amongst themselves, I felt like groaning, and curling myself into a ball of self-pity and just ignoring the pounding voices of Kennedy kids saying, "You guys better win…". Seriously, do people have any idea about how it feels like to have 100 kids putting pressure on you? I'll tell you right now, it ain't a party. As a matter of fact, it's appalling. It seems like every flaw, every mistake, every weakness that you have is being highlighted with an especially bright, torturous yellow highlighter. It's like a big experiment where you don't control the variables; it feels like you are the subject of the experiment, the rodent being tested on, if you will.
Everywhere I look, I see other 6th grade teams handing out their batons like professionals, practicing high-knees with their knees bent exactly 90 degrees, and running at full speed when the baton reaches their hand. It makes Kennedy's 6th grade team, especially me, look like a bunch of amateurs. To be honest, I wouldn't be too surprised if even Lawson Middle School's 4x400 meters relay team beat us in the end. But it was too late to turn back now because this relay race would either make me or break me. Plus, I wasn't going to waste $80 on a shirt for nothing. I was going to run, no matter what.
So, to calm my nerves, I take a deep breath, inhale a big gulp of air, and try to think about what it would feel to actually win and earn a shiny, gold medal. I nod to myself, motivated to do the best I can and sit down on the fake grass, next to the rubber track.
I somewhat meditate and I'm finally feeling a moment of peace, until some girl in a high-pitched voice with a lisp says, "What's your best time?"
I jerk my head backwards to see who the person was and feel myself feeling very uncomfortable. Why? Because the girl talking to me was none other than the anchor of Cupertino Middle School's 6th grade 4x400 meters relay team... I take in the smirk she has on her face, the green eyes that absolutely fail to be modest, and the Cupertino yellow-and-blue jersey she's wearing. I choose to ignore the fact that she's already gotten a medal from some previous event.
Not wanting to answer the girl completely, I ask her, "What's your best time, huh?".
She replies, "5 minutes and 3 seconds" and I just about faint.
Kennedy's 6th grade team's best time was 5:20, and with a 17 second difference, there was absolutely no way we could win 1st place.
But I'm not telling her that.
Instead, I say to her, " Oh. Well, you see, our best time is, like, 4 minutes and 57 seconds".
At first, the girl from Cupertino has a look of surprise on her face. Gradually, however, her expression turns into a malevolent, knowing smile and I know that she doesn't believe me. Not only that, I feel so disgusted by myself for having to lie to her. Where were my manners? After a second of hesitation, I'm thinking that the girl will reply to me by being sarcastic and nonchalant, but she doesn't.
Instead, she says, "Are you guys so bad that you won't even tell us your real time, huh, Kennedy? Talk about good sportsmanship and honor.".
I was struck by horror because of the way the blond girl was talking to me, and the fact that she was telling the truth made me feel all the more frightened about the race.
Not wanting to admit to defeat, though, I told her, "Are we really having this conversation? You and I?".
To reply to my question, she shoots me the hardest, creepiest death glare. Before I start to squirm with nervous energy, however, I decide to end the heartfelt conversation that we were having. With all my dignity, I turn around and go sit next to my best friend, Alison, who was also running the 4x400 meters relay. I approached her, hoping that she would console me with some comfort. I was hoping that she would somehow vanquish my fears and help me find solace by telling me to, "Run, run like the wind…" I was hoping, most of all, that she would tell me that I could beat the Cupertino girl.
But, when I sat down next to her, I knew immediately that Alison would be no help. In fact, Alison was an even bigger wreck than me. Her usual calm, confident posture was replaced by a worried, grief-stricken face that spelled out just how nervous she was about the race. She was rocking back and forth, muttering to herself. She was sweating like a snowman in a sauna, and her black Kennedy Track & Field shirt was glued to her body. I felt all but comforted by this sight of her and a feeling of uneasiness crept up my stomach. Because, usually, Alison was very confident with whatever she said, did, or thought. She wasn't afraid of challenges and was ready to take on whatever obstacle came her way. She was like a person that I could never be; she was confident, even cocky sometimes, and I was not. Seeing Alison this way made me feel all the more vulnerable and unsure of what to do.
So, instead of having her comfort me, I made the bold move of comforting her. I told her that she would do great and that she would beat every girl in the 400 meters race. I soothed her with these words over and over again, not realizing that be helping Alison, I was helping myself.
Because I knew that even though our team was not the best, we would give it our best shot. I kept that in the back of my mind and when the time finally came for me to run third leg alongside the girl from Cupertino, I wasn't so scared anymore.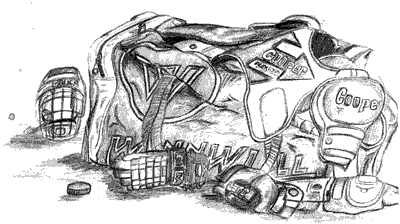 © by Casey C., Rockport, ME