More Than Just a Uniform
April 18, 2014
One of my finest memories about my years in catholic school occurred about a week before my first day of fifth grade. After wearing a jumper for four years, I finally stepped into my new plaid skirt. I have come to find meaning in the simple uniform I don every day. From the tacky buck shoes to the cross patch on my sweater, my uniform identifies me as a Catholic attending a catholic school.

The uniform shoes represent the students' shared journey to heaven. They have thick soles and strong laces. As sojourners to Heaven, we must be determined and have complete faith.

The plaid skirt represents individuality. The mind of every student is nurtured. The students themselves are as diverse in their thoughts and expressions as the stripes in the skirts.

The deep green sweaters represent our resolve to achieve excellence. The patches over our hearts read, "Learning in Christ." With the Lord as our friend and guide, we must strive to be the best we can be in character and academics. The plain white shirts represent service. When faced with a decision between black and white, we are reminded that the pure white shirt covers both our arms and our hearts. We are called to do good works and to love those we serve.

Catholic school has taught me much more than math facts and vocabulary words. It has taught me how to be a person. Through it, I have become the best person I can be. I have found guides and companions for my spirit, teachers for my mind, and nourishment for my creativity. The importance of service has been instilled in me. Catholic schools offer unique opportunities to grow in knowledge and faith. I am extremely grateful for my chance to receive the most spectacular education under the sun.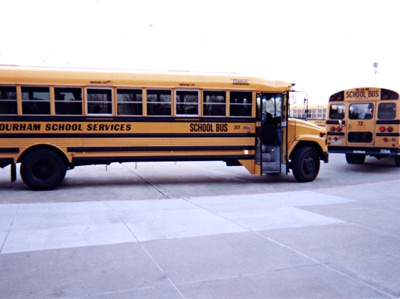 © Blake B., Highland Village, TX