Welcome, Henry
MAG
April 17, 2014
The day I first saw your face was the day I first heard of the red thread. An old Chinese proverb goes, "Every person destined to meet is connected by a red thread. It may snare or tangle, but it will never break." Henry, you and I were definitely connected. You had never heard my name, but I already considered you my brother.
Your arrival in our family wasn't exactly well planned. In October, we heard about a boy who needed a home. You would be 14 in June – in China, a legal adult – and you could be put out on the streets. We had to act quickly.
Everything went wrong, from lost paperwork to your lost brother. I wept bitterly when we heard that your 11-year-old brother had fallen while playing and had died hours later. You were the one who found him and carried him to the car, tiny and weak as you were. You wiped his blood from your face.
Seven months passed excruciatingly slowly for me. I know it was different for my parents. Seven months of frantically paperwork, home studies, fingerprinting, and background checks. For them, there was never enough time.
Finally the day came. We were scheduled to leave at 1 a.m., and I couldn't sleep. I whispered your names, the one the Chinese government issued you and the one we had chosen. Henry. Li Huan. Henry. Li Huan.
We boarded the plane still not knowing if you would be returning with us. Your birthday was two weeks away, and with mountains to do, the odds were stacked against us. Mama, Daddy, Preston, and I were going. Babysitters stayed with my other four siblings.
We had to wait five days in China before we could finally meet you. We made half a dozen trips to the candy store, trying to decide what you would like. In the hotel room, I paced. I would pick up a book and put it down.
Throughout all the anticipation, Preston had seemed unperturbed, unshakable. But a few minutes before you arrived, when we were clustered in the hotel lobby, my brother dropped the giant lollipop we had bought you. Preston looked as crushed as the candy. The look on his face would have been funny if the tension wasn't already so high.
"There's no time to go back to the candy store," my mother said gently. "Go pick out something for him from the hotel bakery."
"How do I know what he'll like?" Preston's voice was rising to hysteria.
"Get him what you'd like."
He returned with a giant cream-filled bun. Chocolate oozed from it into the muggy air. We sat on the edge of the fountain, not saying a word but jumping at every boy that walked by.
Finally, I saw your face. It may sound cliché, but I swear I'll never forget that moment.
The orphanage had given you new shoes as a farewell gift, but they were much too small, and your heels hung out the end. You carried a tiny backpack with all your possessions: a few pictures and a notepad. Your pants were too short, showing your crooked ankles. You weighed 68 pounds. The back of your head was flat because as a baby you had spent so much time lying in a crib; you had not learned to walk until you were four. Your limp was worse than it had seemed in the video we had seen of you. But I didn't notice those details 'til later. When you walked into my life, all I saw were your eyes: wide, dark brown, and terrified.
You were clearly trying to hold back tears. The orphanage director tried to make you stop. Our guide told you to be "a brave boy." You just wiped your eyes and stuffed the offered tissues into your pants pocket.
I can't say everything has been peachy since you joined our family. We couldn't know you would refuse to eat for the first 48 hours. And you wouldn't speak to us for the first 24. You didn't understand how to be part of a family, and we didn't (and probably never will) understand what you had been through. Even though you've been with us for more than six months now, you still throw temper tantrums to rival the family toddler. But as much as I wish it could, six months can't fix 14 years' damage.
Henry, you're the bravest person I've ever met. You buried a baby girl who starved to death in the night. You were malnourished. You watched your brother die, never knowing he too had a new family on their way. You left everything you knew for a new life with a family of strangers. I'm so proud of you. I love you, my brother.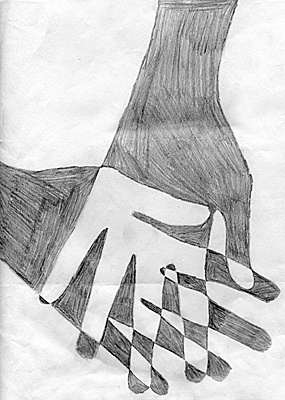 © Warlito B., Tamuning, GU