The Grass Is Always Greener
March 28, 2014
"The Grass Is Always Greener"
Jeffrey Archer, the master storyteller, wrote a short story with that title, and that was how I came across the thought-provoking little phrase. But it's not that story I'm writing about—I'm writing about the validity of the phrase—or rather, statement.

Isn't it true, though? Don't we always want more? Don't we always think that the grass is greener on the other side? I'll give my own example:

When I was a small child, I always wanted to grow up, because I wanted to write with a pen. I found pens very cool, you know—they had blue ink, and you could write with them on pretty much anything, including your own hand!

When I did grow up, when I began writing with a pen, I hated it. No, don't get me wrong—it wasn't the pen I hated, it was the stuff I was supposed to write with it. Physics, Chemistry, History, Mathematics—I always felt weighed down with the weight of my studies.

I wanted to grow older, to get to Class XI, to make boyfriends, to become "cool". And grow up I did. When I was in Class XI, I hated everything. Sure, I felt—sometimes—"cool" (although we can forget about the "making boyfriends" part), but everything else was terrible. The studies were tougher than ever, my hair was beginning to fall, most of the politicians were (actually, are) corrupt, and trees were (again, are) incessantly being cut down.

I thought then, Oh, let me finish school. Then I'll leave for some glamorous city, complete my education, earn lots of money, become famous and marry a celebrity.

Well, soon enough, I finished school. And here I am now. I haven't left for some "glamorous city", started earning lots of money, become famous, or gotten any closer to marrying that dream celebrity. But you know what's different this time? I've realised that I've been playing that silly little "The Grass Is Greener" game with myself, being disappointed at every turn, promising myself that it'll get better.

It was never going to get better—at least not if I'd continued playing that silly game. After I realised my foolish mistake, I stepped out of my own little "coffin" of sadness and realised that life was actually pretty good! I do live in a great city, I do have great parents, I do have great friends, I do lead a great life! Of course, I'm still not any closer to becoming rich and famous, or marrying a celebrity, but then I never said anything about not dreaming big, did I?

...This is why, dear people, reading can sometimes be really good for you. It might just change your life!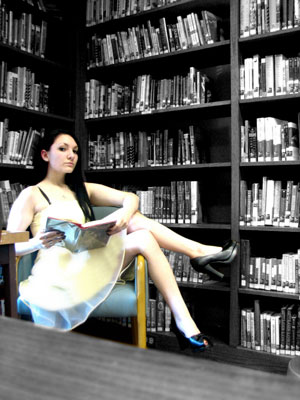 © Jessica F., Bradford, MA