My Broken Home
March 26, 2014
Children around the world are being torn apart emotionally. One of the main reasons is that their parents are splitting up, or something along those lines. To help at least one person, even if it is myself, to cope with their feelings I wanted to write about my person experiences with divorce in the family.

This all started Super Bowl Sunday, February 3, 2013. Out of nowhere my soon to be step-mother decided she didn't want to be in the relationship anymore. Instead of talking it over with my father she decided that she would just take my sisters and leave without telling anyone.

When my father tried to stop her she lied to him and told him that she was just taking the girls to visit their grandmother for the day. Little did we know this would be the last time we saw them for weeks. Those two were the best thing going for me at that time in my life. And she decided that she would just take that away from me rather selfishly.

For days I felt like my life was nothing without them. That maybe if it weren't for me she wouldn't have left and my dad wouldn't have lost his children. Those thoughts still go through my head sometimes to this day. I knew/know that those thoughts weren't good, and weren't made in with a sound mind. But that doesn't make them seem any less true.

I did anything I could to take my mind off of it. I wrote, read, played video games. I did basically anything I could to force the thoughts out of my head. This was my own personal anger management, and it worked great until I couldn't do these things anymore.

That April I got hit by an SUV and got a concussion. I wasn't allowed to do the things that could take my mind off of all the stress that I was overcome with. I started to feel worse and worse about myself. Nothing, that I was allowed to do, would take my mind off of it. I had to go from April to about October without having anything to help with the sinking island, also known as my mind. Nothing was going my way.

People tried to help me, but I didn't want their help. All I wanted was to be left alone, in my misery. I wallowed in self pity. I convinced myself that my life was, is, and always will be completely and utterly horrifically terrible. That I couldn't live a happy life, that it was impossible and illogical for me to have dreams of being with my sister again.

Thoughts like that destroyed my mind. For days, weeks, and then leading into months I was just a hollow shell. Once I was one of the most optimistic people anyone I met had known, but then I wasn't nothing could make me happy and everything made me angry. I kept telling myself that I couldn't be saved, that no one could help me; and it became true.

Every night I had dreams of my sisters being ripped out of my arms by by ex-stepmother. Until one night I remembered one of my happier memories with those two girls. Then I realized if I became that glass half full person again I could live my life. That's exactly what I did, and I overcame how I felt. It still hurts but at least now it's bearable.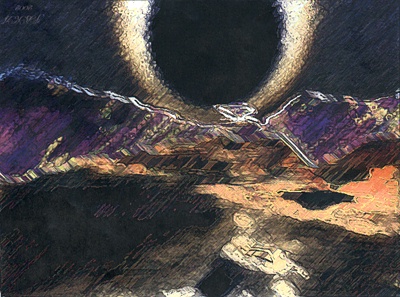 © Jason B., Colorado Springs, CO