Stronger Than The Sun
March 17, 2014
Sweat poured down my face and burned my eyeballs as I stood, unable to move. My arms were locked out in front of me, and my face, emotionless. The sound of the woodblock stung my ears with each blow from the woman with the drumstick. "Five, six, seven, push, step!" I repeated these words over and over; carefully perfecting the movements of my feet and helping those around me. It's July, and this is the story about marching band that the movies never tell you.

My lungs burned with every breath and every step of the half mile we ran to start our day. My decision to stay on my couch all summer until band camp was definitely a bad one. Although I felt as though I could not continue, I conjured up all of my willpower to show strength. After all, I was a captain and a good leader first sets an example before asking anything of anyone. The requirement was running half a mile in less than six minutes; simple enough right? Wrong. Even in the morning, Georgia summers are harsh and unforgiving. Water becomes your best friend.

You would think that the pain would stop there, considering that it's "just marching band." In fact, it was just starting. After the run, we went through a forty-five minute conditioning session with a woman who had to be made of steel. She was Magic of Orlando's drum major. Magic was a Drum and Bugle Corp formed in 1989. Frankly, she was a tank. During breathing exercises, yoga poses, abdominal workouts, strength exercises, and stretches, she never flinched; she never even seemed to break a sweat. All around her, kids were unable to complete her grueling conditioning session, but she never accepted defeat from anyone. If someone said they couldn't do it, everyone had to go longer until that one person could.

From 9 am to 8 pm, we were mostly on our feet. No one sits except during meal breaks and the five minute break you get, if you are good, during the music block inside. The few times you are able to sit, you don't just sit. You lie on the floor and get as much rest as possible before you have to get back up and keep going. "Alright guys, take five minutes to yourselves." Those were my favorite words, and it was always followed by a chorus of "Ahhh my legs!" All around me, people would find places on the walls to put their feet up or find cold spots on the floor to get in a quick power nap. Unfortunately, as soon as it had come, the breaks would end and the work continued.

During those two weeks of camp, your only concerns are the aching of your muscles and the seemingly unavoidable sunburns. Problems with friends, family, or anything else almost become nonexistent. All you have time to do is show up to camp, go home, shower, and sleep. Nothing else really matters. It is two weeks of a break from the troubles of your life. To me, it was always a much needed break.

At this point, you may be thinking, "Wow, that's a lot of work for just marching band. Why would you do it?" Our main goal was never winning. While it is nice, and we were a competition band, we did not believe that winning should be everything. It was more important to cheer on other bands and treat them with respect than view them as people you want to defeat. Those who are not in the world of marching band do not know how cruel some bands can be to each other when it comes to competitions. It is not easy to make friends with everyone because there will always be at least one band that just absolutely hates you. However, we believed that the energy from a crowd can make or break a show. If we were there to watch another band perform, we were always told to cheer for them like they were the best thing we had ever seen, and honestly, watching their faces light up when they heard us cheer was better than winning any trophy.

"The person writing this must be from a band that does not win very often, and that's probably why they are so supportive of other bands." Nope. This past season, my 60 piece marching band won four Grand Championships in a row against bands that had over 200 people. But the reality is that it is just plastic that you won't remember in ten years. The experiences that I will remember have nothing to do with winning, and everything to do with the people I met and the things we did.

My favorite experience happened my freshman year of high school at a contest. I don't remember if we won, and I don't remember where we were. However I do remember one particular band. We were apart in rankings by tenths of a point. The logical thing would be to be at each other's throats and doing everything possible to beat them. But that isn't what happened. We gathered in a circle and played Round, Round, Round, My Baby. If you don't know what that is, basically it is just running inside a circle until the chant stops, dancing in front of a person, and switching out. It's very simple.

This band had over two hundred people and their show was phenomenal. The magical thing was that we were friends. We were both capable of beating each other, but it did not matter. Since then, the first question we ask our director when we go to a contest is if that band will be there. To be fair, that is not the only band that we can do that with, and that is amazing. Band is the only thing where people can compete against and still cheer each other on.

There is a certain, intangible feeling you can obtain from doing things like marching band. Because of my experience in band, I have been able to do things I never imagined was possible. I am physically stronger, less socially awkward, and I have beautiful memories with wonderful people. However, I only have these memories because I went through the pain and suffering first. I let the sweat burn my eyes without moving so that I could be with a group that always strives to leave a place better than they found it. I did not choose heat over air conditioning to win. If winning is all that matters, what will you remember besides worthless plastic trophies?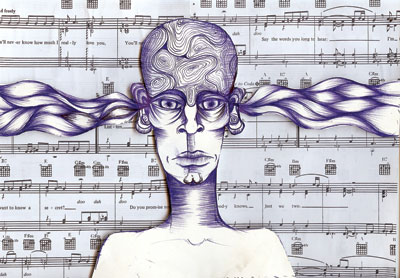 © Ani S., Petaluma, CA