Personal Essay
February 25, 2014
Walking in the suburban house, I am filled with the scents of chicken spices and the culture of the family. I am given knowledge of braids and china buns and weaves. Guests are always at the home; family friends, family, and the odd random. Everyone welcomes me with warm hugs and I immediately belong to their family.

Aunt Natalie was my foster mom, along with Uncle Lance being my foster dad. (Every child calls an adult that is not their parent, by Aunt or Uncle in the Jamaican culture.) Aunt Nat sports different combinations of braids and wigs every day. Each day it seems she is a whole new person. She has one tattoo of her deceased father on her forearm and the rumour is that he haunts the home with his love. (That's just what they tell the young children.)

Uncle Lance is barely home as he has a second job. He was born in Jamaica and his accent is very thick. He gives me a great big bear hug every time he sees me, he's a strong man with a strong heart. Uncle Lance has a daughter with his previous wife; his daughter's name is Jaja. She will visit on weekends and let me do her hair. Jaja will also surprise me with random crafts she creates and gives me as a gift

Aunt Nat and Uncle Lance have two children together. Kymani was their first child. He likes dressing up as super heroes-his favourite being Underwear Man. He will literally put on every pair on underwear he owns (around twenty-pairs) and come running to wrestle me to the ground. Kymani is an energetic kid and it's almost impossible to be mad at him. Their second child-Kamelia was born about a year ago. She is sassy despite her young age and honestly she is the most beautiful baby you will ever see. A baby I would take pictures of and take pride showing off her beauty to the world.

Aunt Ingrid was the Child and Youth worker that would help out my foster parents from time to time. She recently got an offer to a better job so she had to say her farewells. Aunt Ingrid is a total beauty Queen; nails that catch your eyes, hair that is only seen in magazines, and a wide smile that takes up her entire face.

There is also the constant presence of guests making each day nowhere near boredom. My foster sisters were Precious and Tori. The directions our relationships went still surprise me to this day. At first, Precious comes off rude and you envy her for being beautiful. I ignored Precious almost entirely for the first few months because it seemed she hated me. I now know that she just has trouble trusting people and is actually a very great person.

Precious was born in Trinidad and moved here to Canada when she was younger. Her mom died and her dad doesn't give two shits about her. She lived with her Uncle before but he became abusive so she was placed into the foster care system. Living at Aunt Nat's, she saw many foster sisters come and go so she lost her desire to befriend them knowing that she would have to say goodbye. We became friends, I worked to gain her trust and I am happy to have her in my life.

Tori was my best friend for the first few months. We would stay up all night giggling and we had a YouTube channel full of our ridiculous dancing videos. I soon realized that I was being taken advantage of. She was constantly stealing my things, trying to get my boyfriend to cheat on me, starting drama with my friends at school, and lying to my face about the whole thing. I gave her many chances to make up for her actions because I thought she cared about me the same way I cared for her. I eventually gave up on Tori and she was soon kicked out of the home for attacking Aunt Nat while Kamelia was in her arms. It's out of my knowledge as to why these things happen: your enemies become your friends and your friends become your enemies. Never less, the experience has taught me to be careful with my judgements towards other people.

I learned a lot living at Aunt Nat and Uncle Lance's. I found myself through my experiences there and not many people my age can say that. Aunt Nat had me buy and cook my own meals for a month so I could learn how to budget. I was already a good cook but she taught me little things like cleaning my chicken with vinegar instead of water. Each week I would gather the newspaper flyers and create my weekly menu. I'd take a bus to the grocery store and kill my arms carrying the bags of groceries home. But now I know what the real world is like, I've learned not to take my meals for granted.

Uncle Lance taught me to appreciate the smallest things in life. He took me to his mother's place one time. You walk in the small townhouse and wonder how it can be filled with so many beautiful things. I sat in her living room for probably two hours. There was no television but there was no need for one. The collections of decorations and knick-knacks were enough to keep your eyes entertained. Uncle Lance took me to his old bedroom and showed me all his artwork from when he was a child. The way his face lit up when he showed me his art taught me to appreciate little things despite their financial value. The way his mother kept everything on display proudly and dust-free inspired me to collect things that contain memories so that I can revisit those memories every day.

Kymani helped me love my own brother. Kymani and my brother are very different kids. Kymani is very open and energetic, whilst my brother is shy and addicted to video games. Kymani showed affection I'd never experienced with my own brother. The affections surprised me at first but I grew to realize that that's what siblings do. Now living with my brother, I've learned to stop giving him attitude and to ignore his annoying behaviours-that's just how kids are. I spent last summer taking my brother out for bike rides to get him more active and I attended his boring baseball games because I knew how much it meant for him that I was there. A few weeks ago my brother was crying because he wasn't allowed to get a video game. Hearing him cry made me want to cry and that's when it struck me just how much he means to me.

Aunt Ingrid helped me cope with my anxiety and anger problems. Together we made cards to give to people close to me. On the cards we wrote what I'd like people to do and not to do when I am having an anxiety attack. Through doing this, I learned more about my anxiety and how I can help myself. Aunt Ingrid also taught me how to 'take space' in a more appropriate manner. Before living at Aunt Nat's, I would swear and storm off whenever I was feeling angry. Now, from Aunt Ingrid's advice, I will excuse myself politely and let the other person know of my where-abouts. This has helped me a lot to avoid escalating situations to a point that they shouldn't be. Besides helping me cope with my emotional issues, Aunt Ingrid has also greatly influences my fashion sense. She was bold in her choices of clothing and this inspired me to take risks in what I wear. Why be part of the heard when you can be the shining star?

Aunt Nat and Uncle Lance not only helped me, they also helped my mom and step-dad. No other foster parent I have had, put as much effort into helping my family become stronger as a whole. The focus before had always been me-I was always the problem that needed fixing. I am only one piece of the puzzle. Aunt Nat and Uncle Lance taught my parents different strategies and influenced my parents to have a more structured household with routine. It may sound funny, but it is true, children strive on routine. I've been living at home for about five months now and it has been successful. My relations with my family have greatly improved and it's all thanks to Aunt Nat and Uncle Lance.

One thing that I will always remember is having dinner each night with my foster family. We would all hare how our days were but my favourite part was saying grace. We would all link our pinky-fingers together and close our eyes. Then we would say, "God is good. God is great. Thank us for our food. Amen".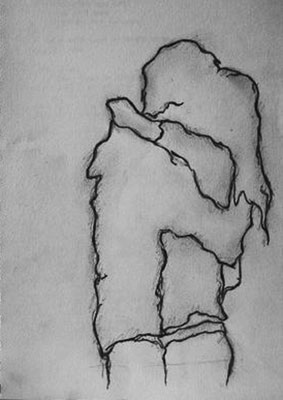 © Nicole B., Newcastle, WA