How To Cure Writer's Block...
February 16, 2014
I had always heard of the infamous writers block. I have watched movies and TV shows where a person trying to write something ends up just staring at a blank screen. I have never personally experienced it and today I had the genius thought of asking myself, why? Why do all these other people, who are fantastic writers, get writers block and I don't? I am certainly nothing special when it comes to writing, but I have enough creative ideas to fill twenty books. (My problem is that I just can't write well…)

One rule for not getting writer's block is: Do not, DO NOT, stare at a blank screen. You are wasting valuable time when you do this, because you are not going to get anywhere. The trick is to get inspired; use the time, which you would have wasted by getting frustrated, to read, watch movies, watch TV, look at art, live life, etc. The thing is that you can't force yourself to write. You have got to be inspired and want to write!

Another solution that you could use which might work after you have tried to get inspired is: Word Vomit. I do this a lot. Whatever comes to mind you write. You can write about your day or past things that you have experienced or in my case you can just ramble on like a blubbering idiot about anything and everything under the sun.

Another big thing to do is always, ALWAYS, write when you feel inspired or you just want to. I do realize that you can't always drop everything and write, but I do believe in the power of jotting (writing ideas or inspirational things down so that you can get back to them later). I have literally been in the middle of a fight scene in a movie with my friends and have paused it to jot something. Yes people will get annoyed, but they are just going to have to suck it up and deal with it. Your creative thoughts are very important and you WILL forget them if you don't put pen to paper as soon as they come to mind.

I also believe that if you say you are having writers block it ends up digging you farther into your rut of not being able to write. I don't know what it is, but just admitting it changes it. It makes it valad or something. I have had times where I have needed to write and I haven't wanted to and some might call that writers block, but I don't really think it was. My keyboard just needed a break. You can say that I have lived in denial at times, but if that is what it takes for me to not get stuck I'll do it no matter how dysfunctional.

It is ok to take a break, if you don't feel like writing don't write. I have this weird thing that happens when I take a break from "writing". I actually end up writing in my diary more when I am not writing in my books or articles, I kind of switch off. I would also recommend not to have too much of a structured schedule. Creative minds and scheduled working do not mix at all. Creative thinking cannot be forced.

So I'll try and make this simple: How to cure writer's block? Don't have it.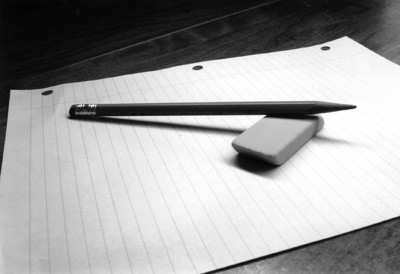 © Michael H., Mildford, CT